2016/11/22 Beijing, China
By Atiqah Fairuz Salleh, Communications and Advocacy
Silos are still dominant in land management in China. Efforts to reduce soil erosion on the Loess Plateau, for example, have been found to jeopardise the provision of other ecosystem services. While it has served its main purpose of soil conservation, large-scale afforestation has also brought about a drastic reduction in water yields from the main tributaries of the Yellow River. A Nexus Approach through the multifunctionality of ecosystems could benefit the management of resources so as not to wind up in new problems, ultimately hindering sustainable development in the area.
Presenting on UNU-FLORES's work in the Loess Plateau region of northwest China, Lulu Zhang spoke at the IUFRO Regional Congress for Asia and Oceania on "Managing in a Balanced Setting: Multifunctional Land Use", within the context of the broader theme of "Multifunctional Forest and Multifunctional Forestry". Co-organised by IUFRO and the Chinese Academy of Forestry (CAF), a cooperation partner of UNU-FLORES, the regional congress on "Forests for Sustainable Development: The Role of Research" that took place 24–27 October 2016 in Beijing is the first of its kind and scale in Asia.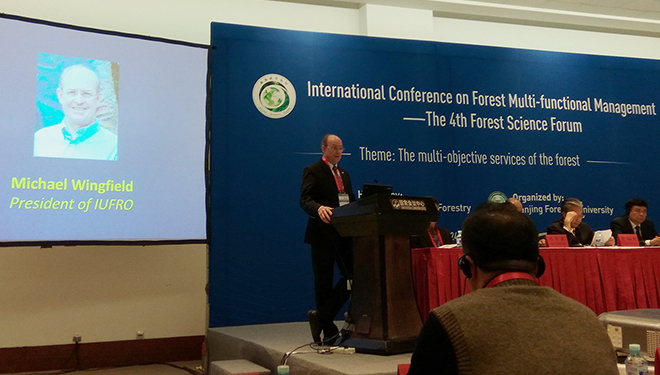 IUFRO President Michael Wingfield opened the session, in which Lulu presented the scientific results and outcomes of the research work conducted by the Soil and Land-Use Management unit at UNU-FLORES and gave a review of the new Chinese policies for sustainable use and management of soil and water resources. In her presentation, she raised pertinent points such as improvements in mindset of governing bodies, as well as the shortcomings in implementation. While land has to provide a number of ecosystem services for the local and adjacent areas such as food production, silos and sectors still dominant in land management in China (e.g., on the Loess Plateau region) lead to the decline of certain ecosystem services (e.g., water availability).
To reverse this trend, the multiple use of land shall be improved by soil and water management covering reducing erosion and associated surface runoff and soil evaporation, as well as increasing and maintaining soil quality. This in turn will increase water infiltration to allow more water available for root zone and underground aquifer. Furthermore, they are also beneficial for the users of adjacent areas in view of replenishment of groundwater, regulation of river flow and sediment.
A possible way towards the practical application of multifunctionality in ecosystems is to place emphasis on the nexus of resources, such as water, soil, and waste. Distinct from sectoral integrated management concepts, such an approach aims to increase resource efficiency and promote the overall shared benefits (human and environment) as it takes relationships, interactions, and interdependencies across sectors into consideration.
Lulu's talk was very well-received and generated great interest amongst the scientific community as illustrated by the intensive discussion it raised. The discussion underlined the issue of significant impacts of afforestation on water fluxes and hydrological processes in water-limited areas in China.
Asia and Oceania, and particularly China, have become the leading regions in the world in terms of growing forest areas over the last decades. The multiple use and management of forests for benefit-sharing between environment and society is one of the core topics of the congress, a fitting entry point for implementing UNU-FLORES's Nexus Approach. Yet, another message is clear from the 4-day congress: it is challenging to move from theory to practice. Nonetheless, challenges can also be turned into opportunities. This will urge us to take actions on the ground to demonstrate the operationality of the multipurpose use of forest resources.