2018/12/06 Dresden, Germany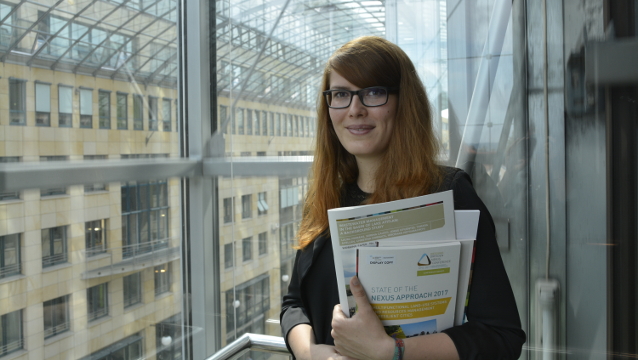 UNU-FLORES offers a rigorous internship programme giving students and recent graduates the opportunity to develop new skills and knowledge in a constructive setting for the practical application of their capacities acquired during their studies. Through hands-on experience, interns work in a variety of areas from academic research, event organisation, communications and advocacy, and institutional development and administration. In this series, we feature the young brilliant minds that have played a big part in many of our activities and events. In this interview, we talked to Marie-Christin Wimmler from Germany, who worked with the Systems and Flux Analysis Considering Global Change Assessment unit.
Tell us about yourself. What is your motivation to do an internship with UNU-FLORES?
Part of the last semester of my master's degree in water management at the Technische Universität Dresden is to gain practical experience through an internship. Since I'm seriously interested in an international perspective on water management issues and interdisciplinary research, UNU-FLORES was a perfect address to apply for an internship.
What types of projects do you work on? What's your favourite part of work/highlight of your internship?
The project I have been involved in is about wastewater use in agriculture. It deals with the impact of irrigation with untreated wastewater on the ecosystem and socio-ecological system in an agricultural area in Central Mexico. During the first part of my internship, I conducted a comprehensive literature review on wastewater use in agriculture, in particular in the study area, to find out what data – e.g., about reuse practices, water quality and quantity, and its health and social impacts on local people – is available. The project aims at creating a numeric model of an aquifer affected by wastewater irrigation. In the second part, I tried to build up this groundwater model to quantify the influence of irrigation on groundwater. I really enjoyed the need to improve my software skills (GIS, ModFlow) in order to prepare and process the available data.
What kind of skills do you need to be successful at your internship?
To create the numeric model, it is necessary to understand ongoing natural processes (e.g., water and nutrient cycle) and to have an idea of the impact of human activities on this system. Based on this, hydrological data as well as data about land use and management is gathered. Since it was not easy to get the needed data, creativity and patience were particularly important in order to develop suitable solutions. I also noticed that it would have been helpful to speak more languages, as a lot of data, especially from local websites or services, is not available in English.
What are some words of wisdom you'd give to anyone aspiring to be in your position?
One should not be discouraged if, despite all efforts, the desired goal is not achieved (especially with the limited duration of an internship). Always stay open-minded for changes regarding the target and the steps to achieve it. Do not be afraid to change plans if needed and always ask questions. No one expects you to be perfect in what you do especially while doing an internship.