2019/11/26 Dresden, Germany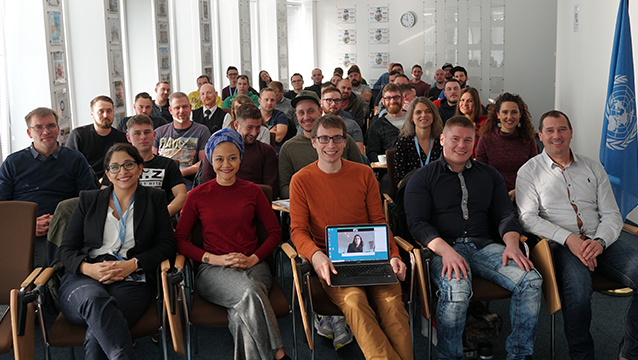 By Eric Siegmund, Communications and Advocacy

Members of the German Federal Armed Forces paid a visit to UNU-FLORES on 14 November 2019 to get an insight into the work of the Institute and to exchange ideas and approaches of implementing practices for more sustainable use of environmental resources.
As part of a wider educational initiative of the German Federal Armed Forces, the 4th Supply Battalion Company 131, led by Lieutenant David Grangladen, learned – through three presentations by the UNU-FLORES team – about the work of the Institute, including case studies embodying the projects undertaken internationally. UNU-FLORES stressed the importance of the Sustainable Development Goals (SDGs) as an overall strategy, relevant even at the individual level as governing principles for everyday behaviour. Goal 17 (Strengthen the means of implementation and revitalize the global partnership for sustainable development) was highlighted to illustrate potential avenues of cooperation between the armed forces and international organisations such as UNU.
Subsequently, Staff Sergeant Felix Schäfer presented the report of sustainability (Nachhaltigkeitsbericht) issued by the Federal Ministry of Defense (BMVg), which outlines the importance and interconnectivity of the three elements of sustainability: the environment, economy, and the social dimension. Measures formulated by the BMVg to implement the 2030 Agenda of Sustainable Development and examples of good practice were presented, in accordance with the overall mission of the German Federal Armed Forces. This would benefit all members of the armed forces. Initiatives include the preservation of the ecosystem in areas of military exercises, the use of reusable dishes, an increased share of renewable energy, high standards in healthcare as well as measures aimed at facilitating the reconciliation of family and working life.
The presentations were followed by a lively exchange of perspectives on solutions and challenges of sustainable development and sparked strong engagement from service members. The scarcity of natural resources touches the core mission of the armed forces, particularly in the prevention of conflicts. In this regard, participants raised their concern that actions and projects aimed at sustainability could cause new conflicts in the respective regions, e.g., mining for raw materials to manufacture batteries. Thus, it is essential for the success of any sustainable initiative to gain acceptance among local communities and to include them into the process.
UNU-FLORES would like to thank the BMVg for the opportunity to showcase the Institute's work and appreciates the strong interest in sustainable development displayed by and the active participation of members of the German Federal Armed Forces.