2019/03/01 Dresden, Germany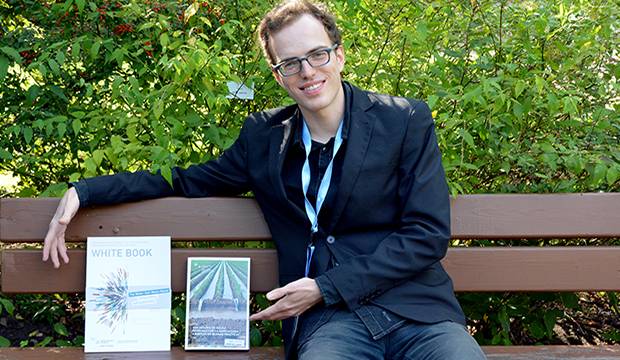 UNU-FLORES offers a rigorous internship programme giving students and recent graduates the opportunity to develop new skills and knowledge in a constructive setting for the practical application of their capacities acquired during their studies. Through hands-on experience, interns work in a variety of areas from academic research, event organisation, communications and advocacy, and institutional development and administration. In this series, we feature the young brilliant minds that have played a big part in many of our activities and events. In this interview, we talked to Leon Zimmermann from Germany, who worked with the Water Resources Management unit.
Tell us about yourself. What is your motivation to do an internship with UNU-FLORES?
During my studies at Technische Universität Dresden, where I was pursuing a master's programme in water management, I had several interests, but sustainability was one of my strongest motivations to join the programme in the first place. I had seen a lecture by Dr Tamara Avellan, who heads the Water Resources Management (WRM) unit at UNU-FLORES, during my studies and was impressed with her idealism and the projects she pursued under the umbrella of sustainability. I applied for an internship at UNU-FLORES to learn from her and her colleagues and to support my theoretical knowledge with practical experiences from one of the top facilities in sustainability research.
What types of projects do you work on? What's your favourite part of work?
My work is a small part of the Constructed Wetlands Knowledge Platform project developed by the WRM unit. I worked closely with other interns and senior colleagues towards a prototype of a database that contains information on constructed wetlands all over the world. The project aims at assessing the amount of wastewater treated by constructed wetlands on a global scale. My work focuses on collecting data concerning constructed wetlands from scientific literature, designing a framework to compile this data in, and to help with organising the project as a whole.
My favourite part of working at UNU-FLORES is twofold: I enjoy the positivity of my colleagues, their open-minded attitude, and welcoming nature. But I enjoy just as much the interesting work that challenges me every day without overburdening me at the same time. I believe these two aspects are closely related: at UNU-FLORES, the work is challenging and fulfilling, keeping people happy and open-minded, which creates a very positive atmosphere.
What kind of skills do you need to be successful at your internship?
I think that it is important to be open to new solutions and not to focus on narrow-minded solutions, as this is an interdisciplinary institute. A good command of the English language and a scientific, independent, methodologically sound working style are very useful for working here as well.
What are some words of wisdom you'd give to anyone aspiring to be in your position?
The work at UNU-FLORES did teach me a lot. I did not only get a glimpse of actual work done in the field of sustainability, but meeting so many interesting people from so many different cultural backgrounds in one place was also a unique experience. I believe that working at UNU-FLORES, even for a short period of time, is something most, if not all, young graduates could benefit from.