2017/11/30 Dresden, Germany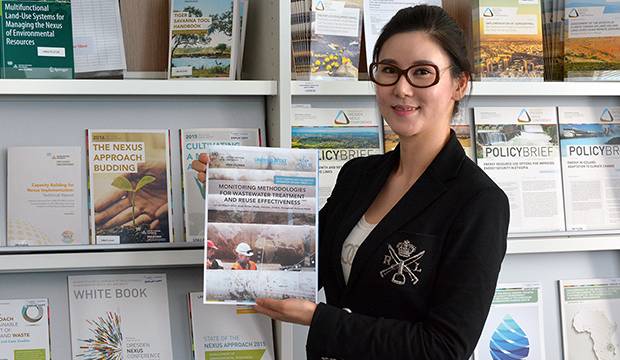 UNU-FLORES offers a rigorous internship programme giving students and recent graduates the opportunity to develop new skills and knowledge in a constructive setting for the practical application of their capacities acquired through their studies. Acquiring hands-on experience, interns work in a variety of areas from academic research, event organisation, communications and advocacy, and institutional development and administration. In this series, we feature the young brilliant minds that have played a big part in many of our activities and events. In this interview, we talked to Yeryeong Joo from the Republic of Korea, who worked with the Capacity Development and Governance Unit.
Tell us about yourself. What is your motivation to do an internship with UNU-FLORES?
I developed a keen interest for the United Nations System when I was studying at the London School of Economics where I had a chance to meet inspiring alumni working at prestigious intergovernmental organisations. After my law studies in London, I started cultivating an interest in studying and understanding complex systems of environmental law and management. In the increasingly complex system of global governance, questions arise on how effective intergovernmental institutions have been in identifying and handling environmental issues, especially from a development perspective and how institutions fulfil desirable criteria such as effectiveness, practical participation and implementation, and coherence. I believe that the United Nations University is one academic institution with a vantage point – given the breadth of its networks – in terms of research, dealing with complex, cross-border issues of policy implementation. Especially the Nexus Approach towards environmental resource management at UNU-FLORES strongly appealed to me.
What types of projects do you work on? What's the highlight of your internship?
As a research intern, my main project was supporting the activities of UNU-FLORES for the Arab Water Week conference, which was held in Amman, Jordan. The Wastewater Reuse Effectiveness Index (WREI) had been endorsed at the 2017 Arab Water Week, with UNU-FLORES and UN-Habitat as co-custodian agencies. Target 6.3 of the Sustainable Development Goals (SDGs) – the focus of the project – addresses clean water and sanitation, providing an opportunity to help frame the development agenda within the Arab region. Through the research work for the project, I learned the importance of wastewater issues in the water cycle and to look at them from an integrated and holistic perspective. It was an extraordinary experience to participate and learn more about the partnership between UNU-FLORES and UN-Habitat, building on national and regional monitoring efforts through the WREI methodology to support SDG 6.
What kind of skills do you need to be successful at your internship?
Comprehensive and extensive knowledge of the environmental issues will surely be helpful. Strong analytical and logical thinking and writing skills are essential when it comes to working independently. It is also essential to remain professional and respect co-workers regardless of their ethnicity, religious, cultural, and national origin or background in the international working environment.
What are some words of wisdom you'd give to anyone aspiring to be in your position?
Setting priorities and goals during the internship period is key for individual development. Setting appropriate objectives for the internship is also a significant matter in order to complete projects successfully. As a research intern pursuing an education simultaneously, I've learned valuable lessons on how decisions may be structured through goal setting and having the big picture in mind.