2019/10/10 Dresden, Germany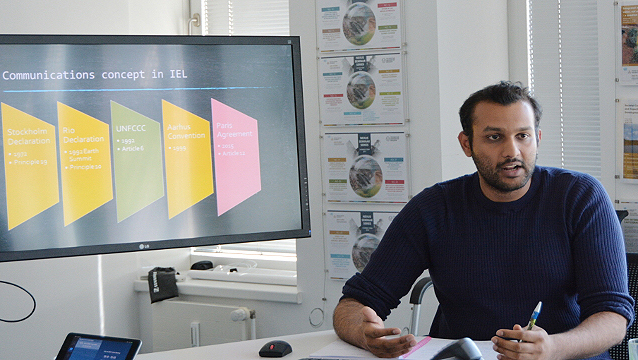 UNU-FLORES offers a rigorous internship programme giving students and recent graduates the opportunity to develop new skills and knowledge in a constructive setting for the practical application of their capacities acquired during their studies. Through hands-on experience, interns work in a variety of areas from academic research, event organisation, communications and advocacy, and institutional development and administration. In this series, we feature the young brilliant minds that have played a big part in many of our activities and events. In this interview, we talked to Niyanta Shetye from India, who worked with the Communications and Advocacy unit.
Tell us about yourself. What is your motivation to do an internship with UNU-FLORES?
Currently I am pursuing a Master in Environmental and Resource Management at the Brandenburg Technical University of Cottbus-Senftenberg. As I was working on my thesis on "Communicating Climate Change under Article 6 of the UNFCCC", I wanted to gain hands-on experience in the field of science communication. I was aware of the United Nations University in Dresden and was delighted to find an opening at the Communications and Advocacy unit. I decided to apply for this internship as I believed this experience would not only develop my understanding of the workings of a communications and advocacy team at UNU-FLORES but also give me a bird's eye view of the United Nations University System and their research areas in general.
What are some of your day-to-day responsibilities? What types of projects do you work on?
As a communications and advocacy intern, my day-to-day responsibilities included maintaining the institutional library, providing research and editorial support for documents, developing tweets and Facebook posts for promoting reports and events conducted by UNU-FLORES, and assisting in the preparation of institutional presentations. Since this was a cross-cutting research communications internship, I got to work on diverse projects such as reporting on two Nexus Seminars, analysing the results of different campaigns through social media analytics, and procuring a camera for the Institute. One of my favourite tasks or highlight of my internship was contributing to the United Nations University annual report through a feature story on waste to resource in Latin America. This unique task required me to study different reports on the SludgeTec project and draft a riveting story by breaking down the jargon. Moreover, this task gave me a deeper understanding of participatory and integrated approaches used to find sustainable solutions in urbanising regions.
What kind of skills do you need to be successful at your internship?
The understanding of social media platforms and websites, creativity, and analytical skills coupled with a good understanding of today's environmental challenges are some of the must-have skills which are required to be successful at this internship. Also, being open to new ideas and having an efficient workflow will be central to most of the tasks assigned during this internship.
What are some words of wisdom you'd give to anyone aspiring to be in your position?
Have a can-do attitude and take all the tasks assigned to you. You may not know at first, but some of the best lessons are learnt from the most unexpected tasks. Also, take advantage of the library – there are tonnes of exciting books and publications!