2018/04/25 Perugia, Italy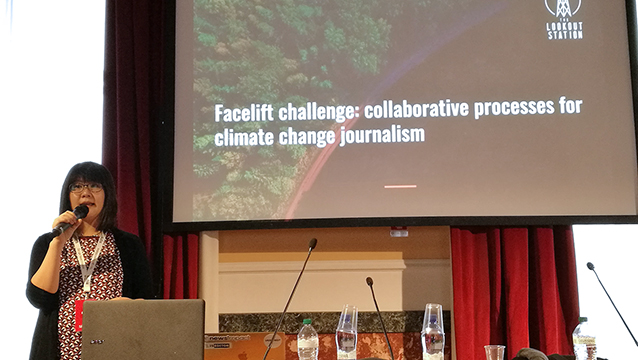 What are the challenges around climate change reporting in today's complex world, and how can some of those challenges be solved? Can we develop new ideas through a collaborative ideation not only among journalists, but also involving others with different expertise (think: academics and scientists)?
Can collaboration help the process to identify the issues and tackle them together?
At the 2018 International Journalism Festival in Perugia, science communicators from UNU-FLORES and UNU-MERIT joined around 40 journalists, developers, designers, and others working to connect science and journalism to discuss challenges facing climate change reporting, and ideate possible solutions.
How might we tell the same story about the science of climate change, again and again using non-technical language, and yet keep people interested?
How might we break down silos, and reach across political divides?
How might we blend human stories with scientific data?
How might we create a story package in an inclusive way?
How might we ensure a real and prompt access to data in a comprehensive manner in a usable format for journalistic purposes?
How might we build a collaborative 'team', including scientists, journalists, data experts that can work on climate change reporting in the long term?
The outcomes of the session were documented in "Collaborative Ideation: Climate Change Reporting – Challenges and Ideas for Solutions", an 11-page Google document that lists the challenges and some solutions the group had collaboratively formulated.
As a next step, the conveners are going beyond to get an even bigger picture of the challenges around climate change reporting experienced by stakeholders in the field. Scientists, journalists, science communicators, and others who have experienced and/or observed around climate change reporting and communications are invited to share your input in an "Open Call for Challenges: Climate Change Reporting".
This effort was convened by the Lookout Station, a science-media initiative of the European Forest Institute, and co-organised by Formicablu, the International Center for Journalists (ICFJ), Code for Africa, the United Nations University, Public Media Alliance, Climate Tracker, Clean Energy Wire (CLEW), Outliers Collective, Backyard Media, and the European Forest Genetic Resources Programme.