2015/05/22 Dresden, Germany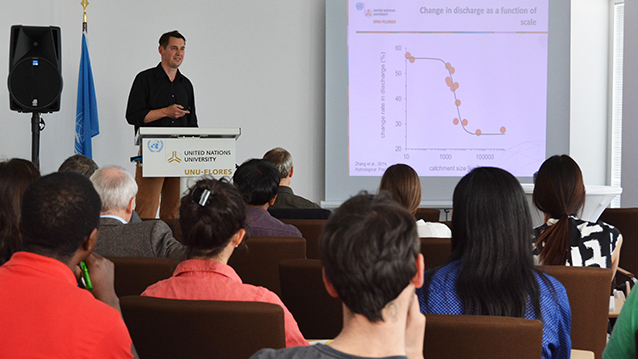 United Nations Institute for Integrated Management of Material Fluxes and Resources (UNU-FLORES) and the Technische Universtität Dresden (TU Dresden) hosted the third joint lecture in the Nexus Seminar Series on 18 May 2015. UNU-FLORES welcomed students, faculty and members of the interested public, to the institute's new conference facilities within the Dresden World Trade Centre. Dr. Kai Schwärzel, Academic Officer for Soil and Land-use Management of UNU-FLORES, gave a lecture entitled Impact of Soil Conservation Measures on the Water Supply in the Dryland of China.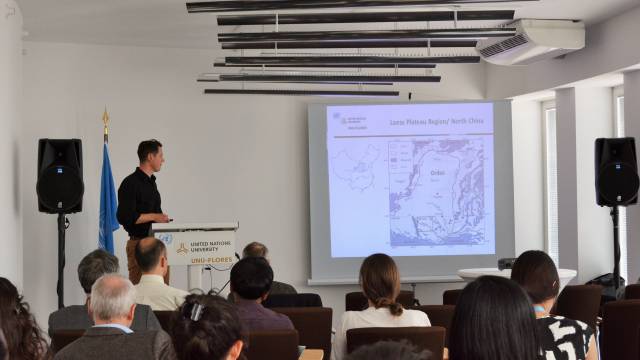 Soil erosion and land degradation are global issues that threaten land productivity and soil resources sustainability. Due to improper land use and the effects of climate change, both the processes of soil erosion and land degradation are accelerated around the world. Many countries use soil conservation measures — notably vegetation restoration — to control soil erosion and improve the degraded land. In his lecture, Schwдrzel illustrated that sectoral management (e.g., soil management) causes negative impacts on natural resources in other sectors (e.g., water resources) Using information from environmental restoration programmes funded by the German Research Foundation (DFG), Schwдrzel depicted how measures are being taken in order to control soil erosion in the dryland areas of Northwest China.*
In the first part of his talk, he showed how changes in large-scale land cover (e.g., afforestation) and form (e.g., terracing) contribute to the significant water yield decrease at the catchment scale and how improper land use has contributed to soil degradation and negative economic impacts over the last 50 years. In contrast, the impact of climate change is more uniform across the space and it is responsible for only a small portion of the lowered water yield. The study discovered that a number of side effects occurred due to ill-fitting land management options chosen by the Chinese government. Currently, the evaluation of the impact of land management strategies on water resources through the use of numerical and statistical models is of the utmost importance for ensuring water supply security for Northwest China. To aid the regional policy-maker for decision, a new statistical model including important climatic and vegetation factors was developed. Evidence showed that innovative land management strategies, which consider multiple cross-sectoral benefits instead of focusing on afforestation, are needed to ensure the sustainable use of water resources in this region. This approach advances a nexus mindset, which not only considers environmental and social aspects, but also economic benefits for farmers.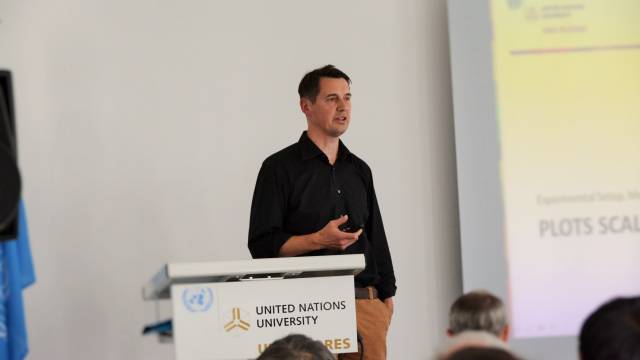 Apart from the catchment studies, field scale investigations on the impact of contrasting vegetation covers — such as afforestation with undergrowth versus grassland on water fluxes — provided valuable information for alternative management options. Such investigation required advanced high resolution measuring network for water balance, which includes weather conditions, soil moisture, and root water uptake. Observation showed that vegetation structure and tree species play a significant role in changing soil water cycle. Between the two contrasting land covers, afforestation consumes much more water than the grassland. The undergrowth of the afforested site was found to contribute to roughly 60% of the total evapotranspiration of the afforestation, indicating that undergrowth development under the afforestation must be controlled to increase water yield. Additionally, specific tree species for promoting stemflow and water infiltration might be another option for increasing the water yield. By adopting a nexus approach to assessing management option, negative side effects can be avoided and positive benefits generated. As a result of these DFG-funded programmes, UNU-FLORES, the Institute of Forest Ecology, Environment and Protection at the Chinese Academy of Forestry, the Institute of Geographic Studies and Natural Resources Research at the Chinese Academy of Sciences, and the Institute of Soil and Water Conservation of the Chinese Academy of Sciences (along with the Ministry of Water Resources) have planned to produce a book about their research that focuses on the multifunctional land use system using a transdisciplinary approach.
The fourth lecture of the Nexus Seminar Series will take place on 22 June 2015 at TU Dresden. Dr. Anna Gцrner, Course Director at the Centre for International Postgraduate Studies of Environmental Management (CIPSEM), will discuss the Improved Environmental Management Needs Postgraduate Training: CIPSEM and Partners.
---
*The programme Dr. Kai Schwärzel used in his presentation for the Nexus Seminar Series No. 4 is a research project conducted by the Soil and Land-Use Management Unit at United Nations University Institute for Integrated Management of Material Fluxes and of Resources (UNU-FLORES). The project is executed in collaboration with the Chinese Academy of Forestry in Beijing and Technische Universiдt Dresden, and funded by the German Research Foundation (DFG).For more information about this research project please click here.