2018/08/30 Dresden, Germany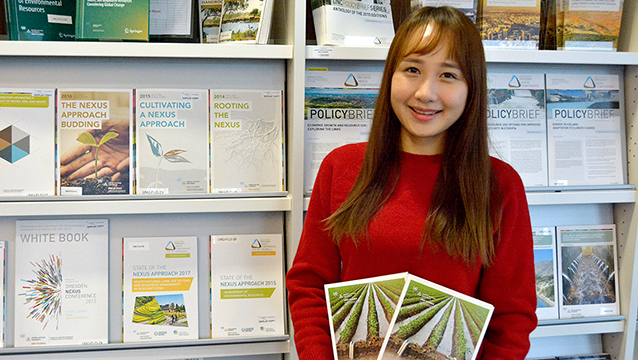 UNU-FLORES offers a rigorous internship programme giving students and recent graduates the opportunity to develop new skills and knowledge in a constructive setting for the practical application of their capacities acquired during their studies. Through hands-on experience, interns work in a variety of areas from academic research, event organisation, communications and advocacy, and institutional development and administration. In this series, we feature the young brilliant minds that have played a big part in many of our activities and events. In this interview, we talked to Hyemi Yang from Republic of Korea, who worked with the Waste Management unit.
Tell us about yourself. What is your motivation to do an internship with UNU-FLORES?
As an urban planning and design major in Korea, I have cultivated an interest in international development and climate change. After graduating from university, I chose to inform myself more on the field to get some deeper understanding. However, I felt studying on paper is not enough to understand the world, and that was the moment I got the chance to work with UNU-FLORES. UNU-FLORES is exactly the place where I can match my interest and through which, explore the world.
What are some of your day-to-day responsibilities? What's your favourite part of work/highlight of your internship?
I was a research intern with the Waste Management unit and I was dealing with learning material related to the Safe Use of Wastewater in Agriculture (SUWA). Basically, my day-to-day duties were understanding the concept of SUWA and developing concept notes as well as finding the right partner(s) to develop the material with. What I like most during my internship is that I got a chance to communicate with people all around the world to complete my task. I sent requests to other UN agencies such as UN Women and had Skype meetings on my own, and also talked to a government officer in South Africa. These are experiences that I could never get in university.
What kind of skills do you need to be successful at your internship?
From my point of view, willingness is the most important skill for the internship. Since my major is not exactly matched with my unit, I had to read and understand new material from the beginning. Those who are willing to learn and are eager to work will be successful at their internship.
What are some words of wisdom you'd give to anyone aspiring to be in your position?
"I hope you live a life you're proud of, and if you're not, I hope you have the courage to start all over again." This is not just a quotation from a movie. The time will come where you might sense something is wrong, but you cannot go back to the beginning because you feel like you've walked along for a long time. A project I was working on experienced setbacks and went back to zero. Having to rethink your approach and being ready to start over is a common experience in research, but I felt so desperate and almost lost all of my passion. Suddenly I realised that not everything would turn out the way I desire them to – sometimes, some things are beyond our control. I learned that the most important thing in life is the courage to start all over again even if you feel like you are failing.