2020/12/12 Dresden, Germany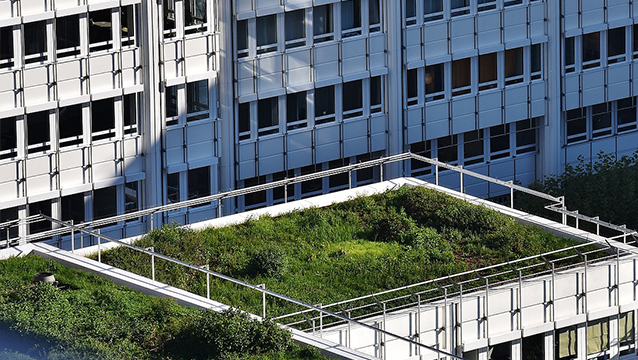 Image: Pixabay/Alexas Fotos
Green roofs offer a wide range of benefits and are an essential element in adapting to the climate change reality. To better understand their potential and to offset current downsides, especially in terms of irrigation, the Chair of Landscape Architecture at TU Dresden started an interdisciplinary research project, providing the basis for planning approaches and simulation models in the urban construction sector.
The virtual Nexus Seminar No. 48 titled "Integrated Rainwater Management for Green Roofs" (16 November 2020) featured Prof. Irene Lohaus, Chair of Landscape Architecture, Institute for Landscape Architecture at TU Dresden, and was the second instalment of the Winter Semester 2020/21.
Prof. Lohaus began her lecture by assessing recent developments in Germany and shedding light on the challenges around creating green roofs. Their numbers are increasing but irrigation with rainwater proved to be unreliable, thus unpractical. Instead, treated grey water coming from households and businesses could constitute a compelling alternative to other sources of water. It is available all year round and offers advantages beyond. However, this would require the installation of a complex two-pipe system, making it expensive and less favourable for decision makers.
The core of research circles around the so-called simple intensive green roofs that suffer a lack of empirical data to date. With the inherent objective to fill this gap, Prof. Lohaus introduced the project's approach to the topic and presented its measurement system. The project site consists of a test roof in the Botanical Garden of TU Dresden, Germany, which is irrigated by grey water coming from a university building nearby. Data is jointly collected by different methods and tools for different purposes, generating a pool of data sets to be used for the research study's objectives. Preliminary results indicate an extensive cooling potential for urban spaces, creating synergies with additional benefits of green roofs.
Subsequently, Prof. Lohaus addressed questions from the audience that tuned in to the online seminar. Asked about the state of legal regulations, she referred to the example of the city of Munich, Germany, that made it mandatory to construct green roofs on new buildings. This could be a role model for other cities and regions, especially for large-scale development projects. The present obligation to build rainwater detention systems could furthermore demonstrate a pathway to promote green roofs given their considerable storage capacity. In her final note, Prof. Lohaus stressed the necessity to find a solution to uncertainties in grey water supply to avoid supplementing with drinking water due to environmental concerns.
The Nexus Seminar is a monthly lecture series – held in collaboration with PRISMA – Centre for Sustainability Assessment and Policy on behalf of TU Dresden – that highlights all dimensions of research on the Nexus Approach. Find all past and upcoming Nexus Seminars here.