2017/08/23 Dresden, Germany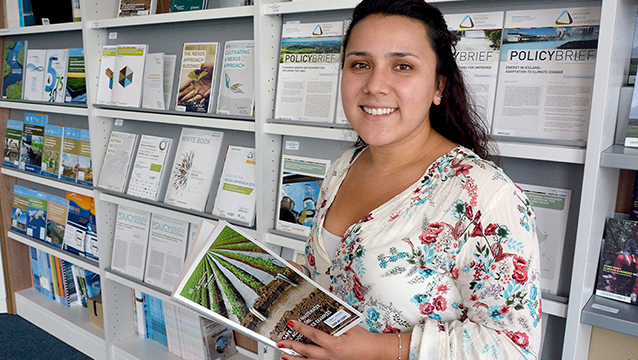 UNU-FLORES offers a rigorous internship programme giving students and recent graduates the opportunity to develop new skills and knowledge in a constructive setting for the practical application of their capacities acquired through their studies. Acquiring hands-on experience, interns work in a variety of areas from academic research, event organisation, communications and advocacy, and institutional development and administration. In this series, we feature the young brilliant minds that have played a big part in many of our activities and events. In this interview, we talked to Diana Carolina Riano Guzman from Colombia, who worked with the Waste Management unit.
Tell us about yourself. What is your motivation to do an internship with UNU-FLORES?
I am a biologist and microbiologist with a Master in water sciences. During my Master studies, I realise the high importance of interconnections between different resources and disciplines. These interconnections play a key role in the implementation of appropriate management plans for different resources. Particularly the impact and importance that wastewater has for human societies and the environment caught my attention. UNU-FLORES's work on the Nexus Approach towards the management of waste and water motivated me to learn more and to apply for the internship programme addressing this topic.
What are some of your day-to-day responsibilities? What types of projects do you work on?
Everyday tasks vary according to what is needed with more urgency; mine ranged from reading almost an entire book, to searching for experts' profiles to writing promotional content for tweets and Facebook posts. The main project I worked on here at UNU-FLORES was the preparation of a review paper on the potential that Managed Aquifer Recharge (MAR) systems have in the use of wastewater. I also prepared materials for two capacity development workshops; on the use and management of wastewater in Iran and on the management of sewage sludge for human activities, such as agriculture, in Mexico. As a native Spanish speaker, I was also tasked to proofread the Spanish version of the Safe Use of Wastewater in Agriculture (SUWA) book published at the beginning of this year. High diversity in activities and responsibilities was the day-to-day.
What's the highlight of your internship?
At UNU-FLORES, I have the chance to work with an amazing team of experts (my supervisors) and colleagues (other interns and PhD students) that enrich my experience. I have the chance to pique my scientific curiosity about resource management and different approaches to this theme. Additionally participation in the PhD seminars and other meetings allows me to explore other views for researching similar topics and to learn of the difficulties that arise in this process. In general the friendly environment allows me a taste of how high-quality research is done and in so doing improve my quality as a researcher.
What kind of skills do you need to be successful at your internship?
In order to get the best of the internship programme and to not only complete the goals of the task that have been entrusted to me, but also the additional jobs that come over the days, it is very important to be organised, open-minded, and calm. There will be moments when time management can be a challenge and remaining calm and thinking logically is the best way to fix it. Keeping all communication channels open would also facilitate any job that is given; being able to listen and ask for help when the need arises is very important and with no doubt have enriched me as a professional and as a person.
What are some words of wisdom you'd give to anyone aspiring to be in your position?
First, it is important to maintain confidence in what you know and what you can achieve. Second, always keep a positive attitude and be curious about all the things that are being developed not only in the unit you work with but also others. For sure that will enrich your experience and will allow you to learn a lot about the topic you work on, the organisation that you are working for, and the impact that you as a young scientist can have in the future.