2020/05/29 Dresden, Germany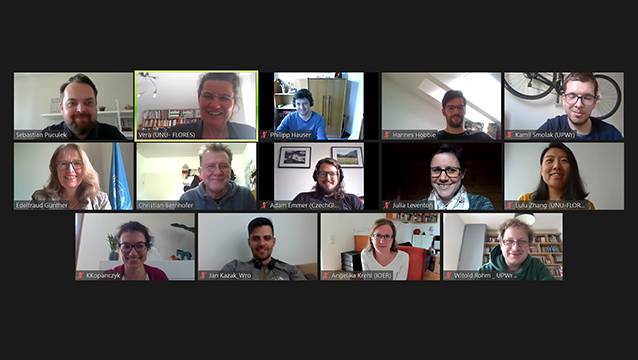 On 20 May 2020, 14 people from six institutions (UNU-FLORES, TU Dresden, CzechGlobe, Wrocław University of Environmental and Life Sciences (UPWr), University of Applied Sciences Dresden (HTW), and Leibniz Institute of Ecological Urban and Regional Development (IOER)) met at the culmination of a 3-day kick-off meeting (starting 5–6 May) for the "Institutionalizing Cooperation on Resource Efficiency in Central and Eastern European Countries (ICE-CEEC)". Due to the Covid-19 situation, the kick-off meeting was organised by UNU-FLORES entirely as a virtual conference with a mix of traditional presentations and workshop sessions.
Funded by the German Federal Ministry of Education and Research (BMBF), the main goal of the project is to establish successful cooperation between CEE countries in the area of sustainable use and integrated management of environmental resources (water, soil, and waste) especially in carbon-sensitive regions, as well as climate change through a better understanding of the institutional obstacles for better resource management and how they can be removed and suitable incentives created to secure water, energy, and food security in the long term. In the short term, the ICE-CEEC project aims at submitting joint project proposals to European funding mechanisms in the field of sustainable resource management, as a joint effort of four high-class research entities in Germany (UNU-FLORES – Project Coordinator and TU Dresden), the Czech Republic (European Centre of Excellence, CzechGlobe), and Poland (Wroclaw University of Environmental and Life Science).
"This project brings out the value of a strong network. I am positive it will hold beyond this collaboration."
– Prof. Edeltraud Guenther, Director, UNU-FLORES
In carbon-sensitive regions covered by the ICE-CEEC project (Silesia in Czech Republic, Saxony in Germany), networks are especially important. Identifying intersectoral synergies and mutually beneficial solutions can help reduce trade-offs and potential conflicts and support the decision-making process to enhance sustainability. Prior to the kick-off meeting, the project team at UNU-FLORES analysed a pool of existing projects under the INTERREG, LIFE, and Horizon 2020 initiatives and prepared a comprehensive report identifying 28 calls for application. Similar problem dimensions allowed the project group to find a common ground for future successful cooperation.
During the first two days of the workshop,  project partners shortlisted the following three topics as most interesting: supporting public authorities in driving the energy transition, Social Sciences and Humanities (SSH) aspects of the clean energy transition, and the role of consumers in changing the market through an informed decision and collective actions. Topics will be developed in full proposals in the following months.
The ICE-CEEC project promotes an internationalisation strategy in the fields of education, science, and research. From a thematic point of view, the consortium deals with key areas of action such as climate change, health, and food safety, which cannot be addressed scientifically or politically by individual countries alone.
"For effective transboundary dialogue, it is crucial to employ a Nexus Approach to identify not only both trade-offs and impacts but also mutual interests."
– Vera Greschner Farkavcova, Project Coordinator
For enquiries related to the project, please contact the Project Coordinator Vera Greschner Farkavcova (farkavcova@unu.edu).