2019/04/19 Dresden, Germany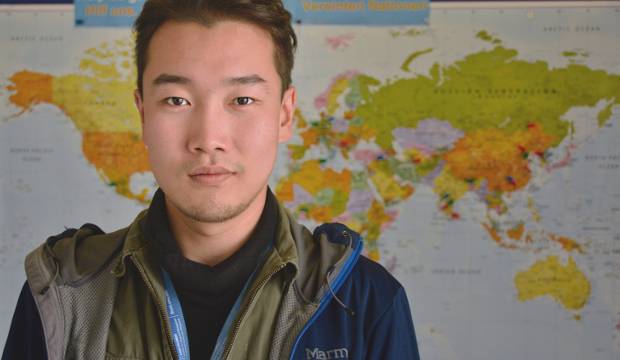 UNU-FLORES offers a rigorous internship programme giving students and recent graduates the opportunity to develop new skills and knowledge in a constructive setting for the practical application of their capacities acquired during their studies. Through hands-on experience, interns work in a variety of areas from academic research, event organisation, communications and advocacy, and institutional development and administration. In this series, we feature the young brilliant minds that have played a big part in many of our activities and events. In this interview, we talked to Kaidong Ao from China, who worked with the Water Resources Management unit.
Tell us about yourself. What is your motivation to do an internship with UNU-FLORES?
After graduating from my master's programme in cartography, for my graduation trip I dreamt of having adventures in nature, somewhere with minimum human impact. Instead, I saw the shocking fact of how we human beings are impacting the world and how such changes are reshaping people's lives. While I was riding through the land covered by smog from burning waste, or hearing stories about how farmland erosion caused by the rise of sea level was impacting farmers' lives, a question occurred to me: how can I help with this? To that question, I found UNU-FLORES's mission on the Nexus Approach attractive.
The multidisciplinary research environment at UNU-FLORES is another reason I chose to do my internship here. At UNU-FLORES, not only can I have enough space to work independently in my geoinformatical field, I also had the chance to get inspired and keep learning from an enriching team.
What are some of your day-to-day responsibilities? What types of projects do you work on?
As a member of the Water Resources Management team, my duties at UNU-FLORES were mainly focused on the project Constructed Wetlands Knowledge Platform. To which my day-to-day responsibilities included: structuring and managing the backend geodatabase, supporting the user interface development, web-mapping, and web app development. Additionally, I also supported setting up the GIS server on the institutional scale.
What kind of skills do you need to be successful at your internship?
Being communicative is what I have found crucial for this internship. For instance, in the team I worked in, we have experts from various backgrounds; communication is rather essential for maximising everyone's strengths and working efficiently. Also, being a self-starter would also be helpful to have a productive experience at UNU-FLORES.
What are some words of wisdom you'd give to anyone aspiring to be in your position?
On most endeavours to get where you want to be, citing my supervisor, Dr Tamara Avellán, during my time at UNU-FLORES, "It is science! The point is to keep trying."