2021/07/30 Dresden, Germany
In the weeks between World Youth Skills Day (15 July) and International Youth Day (12 August), we introduce young professionals who have gained firsthand experience in a wide range of topics through their internship at UNU-FLORES. This week, hear from Leena Renita Dsilva (India), Yein Kim (Korea), and Ametus Kuuwill (Ghana) who provided research support during their stints.
---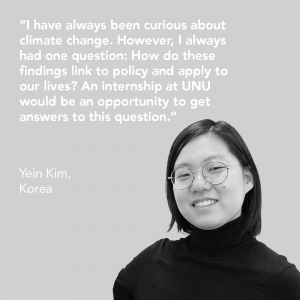 Tell us about yourselves. What is your motivation to do an internship with UNU-FLORES?
Yein Kim: I have always been curious about climate change. Based on this interest, I have conducted an internship in a climate modelling lab at the university. However, I always had one question: "How do these findings link to policy and apply to our lives?" UNU is a bridge between academia and the UN, contributing to solving global problems.I thought an internship in this institution would be an opportunity to get answers to this question.
Leena Renita Dsilva: Being born and brought up in a rural village in India, I've grown up on the farm and watched my grandfather cultivate crops. This has increased my passion to know more about soils and how it sustains life.
What types of projects do you work on? What's your favourite part of work/highlight of your internship?
Ametus Kuuwill: My day-to-day tasks include searching, collecting, and reviewing relevant scientific literature on the above-ground biomass estimation of black locust. Additionally, I was engaged in rigorous data cleaning and data analysis. I enjoyed all my daily activities because it helped me gain knowledge in scientific research and academic writing.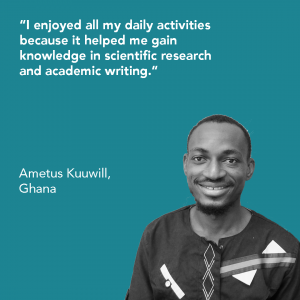 Leena Renita Dsilva: My favourite parts of my internship were the intercultural work environment and the opportunity to work with scientific disciplines on a common problem of human relevance.
Yein Kim: I examined what methods could be performed to prevent soil pollution and restore biodiversity. This required reading and summarising numerous papers. As I've never studied soil science deeply before, it was a little difficult to understand new fields at first. But eventually, I found how interesting and exciting it was to work in new areas, and I was delighted to expand my knowledge.
What kind of skills do you need to be successful at your internship?
Leena Renita Dsilva: As a research intern, one requires interest, patience, and time management skills to go through a lot of scientific papers, to understand the topic, and to collect the data. Collecting and organising data for future use is an important part of time management.
Yein Kim: When you study new areas, it is crucial to understand the terminology correctly. Various academic terms are used in the field of study. Understanding the terms is directly related to understanding the concepts correctly, which is essential to building a solid foundation for research.
Ametus Kuuwill: As a research intern, knowledge about data analysis, gathering literature from various scientific databases, and reviewing of literature is very essential. Also, having the skill of working in a team as well as confidence in presentations is an added advantage.
What are some words of wisdom you'd give to anyone aspiring to be in your position?
Yein Kim: Enjoy new experiences! Here, I not only gained research experience but also got the opportunity to meet good colleagues and think about my career. There are also seminars and workshops on a variety of interesting topics at UNU-FLORES, which were very valuable. Think about what you want to gain from your internship and actively tailor your experience to achieve it!
Ametus Kuuwill: The series of presentations as part of the internship programme has helped me to build confidence and I believe this is a crucial tool for success in any organisation.
Leena Renita Dsilva: Set your goals straight and learn as much as you can. Talk to other interns, doctoral researchers, and professionals, and listen to what they have to say. Some stories will truly inspire you and will help you to understand an issue from a different point of view.
UNU-FLORES offers a rigorous internship programme giving students and recent graduates the opportunity to develop new skills and knowledge in a constructive setting for the practical application of their capacities acquired during their studies. Through hands-on experience, interns work in a variety of areas from academic research, event organisation, communications and advocacy, and institutional development and administration. In this campaign series, we feature the young brilliant minds that have played a big part in many of our activities and events.