2021/07/15 Dresden, Germany
In the coming weeks between World Youth Skills Day (15 July) and International Youth Day (12 August), we introduce to you young professionals who have gained firsthand experience in a wide range of topics through their internship at UNU-FLORES. This week, hear from Seohyun Park (Korea), Robert Culligan (United Kingdom), and Mouna Bourakkadi (Morocco) who supported the Communications and Advocacy function during their stints.
---
Tell us about yourselves. What was your motivation to do an internship with UNU-FLORES?
Mouna Bourakkadi: Seeking an internship at UNU-FLORES was motivated by the focus that the Institute has on sustainable development – not limited to envisioning sustainability from the narrow viewpoint, but from a holistic approach that recognises the need to look at intersections to create effective action. UNU-FLORES's research focus echoes the training I have received previously during my master's studies and is complementary to creating a better living environment.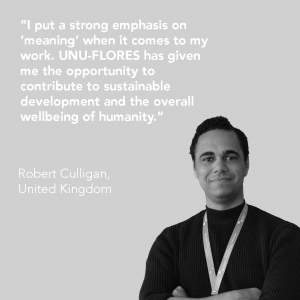 Robert Culligan: I put a strong emphasis on "meaning" when it comes to my work. UNU-FLORES has given me the opportunity to contribute to sustainable development and the overall well-being of humanity.
What types of projects did you work on? What was your favourite part of work/highlight of your internship?
Robert Culligan: My overarching project was the Dresden Nexus Conference. DNC is a biennial conference that UNU-FLORES and its partners put together to create a space for different stakeholders to discuss some of the most pressing issues facing the environment and particularly within the UN Agenda for Sustainable Development.
Mouna Bourakkadi: As part of the Flexible Workspace Committee, my main tasks centred around the development of a new UNU-FLORES office concept. During the internship, we developed different steps and phases building towards the new office plan. I also had the opportunity to support the Communications and Advocacy team in graphic design. The opportunity to take part in a diversity of tasks and projects was the best part of my internship.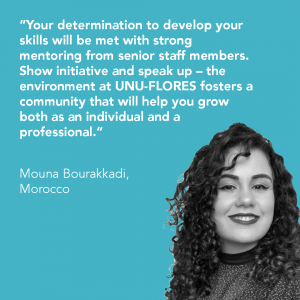 Seohyun Park: My favourite part of work was seeing my work reach the public. Seeing the climate change social media campaign that I developed launched, and later monitoring the analytics made me proud of what I've achieved.
What kind of skills do you need to be successful at your internship?
Seohyun Park: To be a competent intern in Communications and Advocacy, I would say fluent writing skills and some photo/video editing skills would be needed.
Mouna Bourakkadi: At UNU-FLORES, you will find an environment where your efforts and enthusiasm will be seen and appreciated, your input valued, and your dedication highlighted. Showing interest and a determination to learn more and develop your skills will be met with strong mentoring from senior staff members. I would also suggest showing initiative and speaking up, as the environment fosters a community that will help you grow and learn both as an individual but also as a professional.
What are some words of wisdom you'd give to anyone aspiring to be in your position?
Seohyun Park: Don't worry too much about new tasks you've never done. Rather than worrying about them, don't hesitate to ask and there are always colleagues in the team who will support your learning.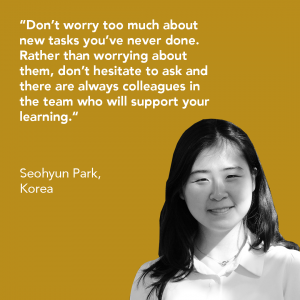 Robert Culligan: Coming to a new city and a new job can be hard. I was also worried that I would fail spectacularly in a professional sense. The initial experience of fear gave way to a deeper sense of confidence in my abilities. The advice that I would give is "don't let the fear of failure turn you off something that you really want to do".
Mouna Bourakkadi: The freedom to be allowed to learn and evolve isn't always a given in all work environments. Cherish this work environment at UNU-FLORES – it's a good launchpad for transitioning you from a student to a professional in the best way possible.
UNU-FLORES offers a rigorous internship programme giving students and recent graduates the opportunity to develop new skills and knowledge in a constructive setting for the practical application of their capacities acquired during their studies. Through hands-on experience, interns work in a variety of areas from academic research, event organisation, communications and advocacy, and institutional development and administration. In this campaign series, we feature the young brilliant minds that have played a big part in many of our activities and events.