2021/08/09 Dresden, Germany
In the weeks between World Youth Skills Day (15 July) and International Youth Day (12 August), we introduce young professionals who have gained firsthand experience in a wide range of topics through their internship at UNU-FLORES. This week, hear from Dahye Lee (Korea), Ying Liu (China), Racquel Abagat (Philippines), and Muhan Liu (China).
---
Tell us about yourselves. What is your motivation to do an internship with UNU-FLORES?
Dahye Lee: With an academic background in US and international law, I was curious how it can be linked with my interests in environmental subjects.
Racquel Abagat: I recognise the importance of environmental protection and sustainable development through proper project planning, management, and implementation. My experiences and studies both in academia and at work made me realise the need for global and competing perspectives especially on issues and policies related to the environment, development, and the economy.
What types of projects do you work on? What's your favourite part of work/highlight of your internship?
Ying Liu: I mainly assisted in taking notes at weekly meetings, organising contact databases, formatting academic articles, and drafting articles about institutional events.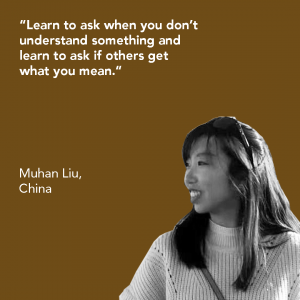 Muhan Liu: I worked on data analysis and visualisation in a project on international development cooperation in Saxony, gathering useful information for the report. My last projects mainly focused on visual design. I created several visuals for UNU-FLORES's Annual Report, photo contest, and events.
Racquel Abagat: My main tasks included researching scientific publications on HR-related topics and drafting, reviewing, editing, and proofreading internal documents and articles. I also provided support to the Office of the Director by carrying out tasks including minutes taking and supporting the editorial process.
Dahye Lee: I enjoyed the freedom to explore various topics such as circular economy and waste management by attending academic seminars and workshops.
What kind of skills do you need to be successful at your internship?
Muhan Liu: Learn to ask when you don't understand something and learn to ask if others get what you mean. Leadership and time management are also important in a group project and making sure everyone is on the same page going in the right direction.
Ying Liu: I think intercultural communication plays an important role in teamwork, which lies in respecting others' opinions and trying to understand diverse ways of expressing ideas.
Racquel Abagat: Working at UNU-FLORES requires an inclusive and a growth mindset – which means one must be open and believe that one can improve and develop. I have always lived by the saying 'learning by doing'. It is true that there will come a time when the tasks that will be assigned to you may be unfamiliar, but you have no choice but to deal with them.
What are some words of wisdom you'd give to anyone aspiring to be in your position?
Ying Liu: Be patient and try your best. Work can sometimes be unavoidably overwhelming, but patience is required to get things clear and straight.
Dahye Lee: I want to encourage you to not get afraid of making mistakes. If you are afraid of failure, you will have less chance to step forward. Remember that UNU-FLORES cherishes three values: trust, transparency, and tolerance of failure. But even more so, it will require responsibility for your own work.
UNU-FLORES offers a rigorous internship programme giving students and recent graduates the opportunity to develop new skills and knowledge in a constructive setting for the practical application of their capacities acquired during their studies. Through hands-on experience, interns work in a variety of areas from academic research, event organisation, communications and advocacy, and institutional development and administration. In this campaign series, we feature the young brilliant minds that have played a big part in many of our activities and events.