2021/07/23 Dresden, Germany
In the weeks between World Youth Skills Day (15 July) and International Youth Day (12 August), we introduce young professionals who have gained firsthand experience in a wide range of topics through their internship at UNU-FLORES. This week, hear from Dominique Schmachtel (Germany), Muqeet Iqbal (Pakistan), and Sanjana Balachandran (India) who provided research support during their stints.
---
Tell us about yourselves. What is your motivation to do an internship with UNU-FLORES?
Muqeet Iqbal: My biggest motivation for this internship was to serve the vulnerable communities in the developing world, particularly to improve access to freshwater. Growing up in Pakistan – the seventh most vulnerable country with respect to impacts of climate change – exposed me to issues of access to water which urged me to pursue my internship at UNU-FLORES to better understand what can be done and how we can do it!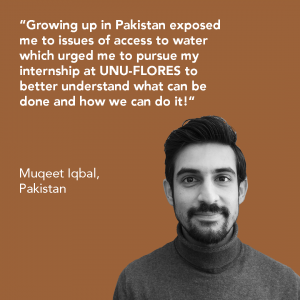 Sanjana Balachandran: As a final year master's student at TU Dresden in Hydroscience and Engineering, UNU-FLORES provided me with an ideal platform to apply and enhance the skills I developed during my studies.
What types of projects do you work on? What's your favourite part of work/highlight of your internship?
Dominique Schmachtel: I had the advantage of getting an insight into a variety of different tasks. They ranged from writing weekly meeting minutes to designing a scientific poster and to write parts of a final project report or a news piece about my individual internship project.
Sanjana Balachandran: As a research intern, my main focus was collating data and reviewing literature. I focused on wastewater treatment, reuse, and emerging contaminants that pollute the environment, a topic I am deeply passionate about.
Muqeet Iqbal: I wished to apply the acquired skills in real-life projects, therefore, I worked with the waste management experts at UNU-FLORES, who have done extensive research on the safe use of wastewater in agriculture and managed aquifer recharge. My daily tasks included literature review on groundwater governance and adaptation strategies in Costa Rica, data collection, article writing, and editing.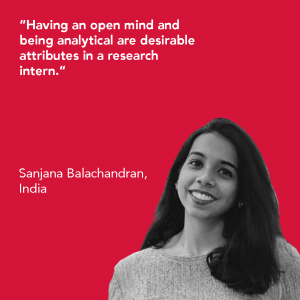 What kind of skills do you need to be successful at your internship?
Sanjana Balachandran: To be a successful intern, it is important to listen and learn, and focus on the little details. In research, I found it helpful to be concise, practical, and organised. Having an open mind and being analytical are desirable attributes in a research intern. It is always advantageous to be technology savvy and be software literate in the field of our study.
Muqeet Iqbal: The most important skills that can take you far are your ability to learn new things, perseverance, and effective communication. Oftentimes, in my day-to-day work, I have to pick up new concepts which overlap with my area of interest. Persistently solving issues as they arise, while maintaining strong communication with your supervisor goes hand in hand with your success.
Dominique Schmachtel: Be communicative. Be self-confident. Be flexible and a self-starter. Be aware that you will make mistakes. There is no escape from it!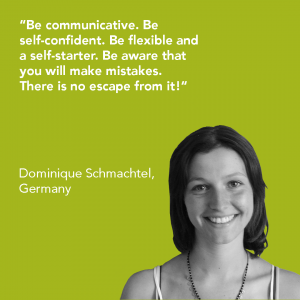 What are some words of wisdom you'd give to anyone aspiring to be in your position?
Muqeet Iqbal: Coming from a middle-class family in Pakistan, it has always been a dream for me to learn from the UN System and henceforth, play my part towards sustainable water management. Self-confidence plays a huge role, therefore, believe in yourself and apply, no matter if you want to be a researcher or work in industry, a stint at UNU-FLORES is an excellent opportunity to learn from the experts. As Rumi rightly said – "If light is in your heart, you will find your way home."
Dominique Schmachtel: Apply for it. Even if you are not planning to become a researcher or to do your dissertation, take the opportunity to be surrounded by experts, and enjoy working in an international environment.
UNU-FLORES offers a rigorous internship programme giving students and recent graduates the opportunity to develop new skills and knowledge in a constructive setting for the practical application of their capacities acquired during their studies. Through hands-on experience, interns work in a variety of areas from academic research, event organisation, communications and advocacy, and institutional development and administration. In this campaign series, we feature the young brilliant minds that have played a big part in many of our activities and events.