2017/09/22 Dresden, Germany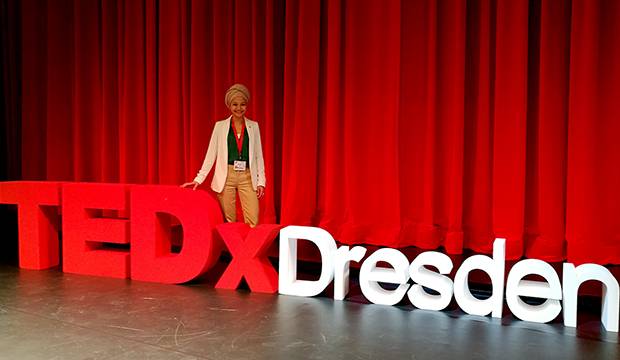 By Atiqah Fairuz Salleh, Communications and Advocacy
With the number of viewers exceeding a billion, TED talks are no foreign phenomena. Short for "Technology, Entertainment, Design", TED, a US non-profit organisation, started with addressing themes of technology and design, but has increasingly broadened its focus to include talks on many scientific, cultural, and academic topics.
At the local TED conference – TEDxDresden – on 27 August 2017, UNU-FLORES represented by Atiqah Fairuz Salleh participated at the poster session, bringing the Nexus Approach to an audience passionate about "ideas worth spreading", the slogan of TED.
"TEDxDresden is a platform for innovative and inspiring ideas from Dresden and the area.
Researchers, businesses, students, and curiosity-driven citizens meet and discuss these ideas,
paving the path for their spreading and implementation."
– Christoph Sträter, Chairman of the TEDxDresden association
Organised by a diverse group of students, researchers, and professionals, TEDxDresden 2017 featured 12 talks and 10 posters. Speakers came from a wide range of backgrounds, from individuals sharing personal stories on survival in a foreign land to a theoretical physicist on the mathematics of juggling to a robot called Myon.
Under the motto "Embrace the Future", both speakers and poster presenters engaged on ways to manoeuvre in a world full of uncertainty. One message that echoed in various presentations is the need to think more broadly and be open to developments beyond our usual playground.
An improvisational theatre practitioner who opened the TEDxDresden talks succinctly put it as: think of it as a stage where we need strong impulses to drive forward, but a balance of input from various actors to tell a story together; balance action and observation, and then act together.
In this vein, Director-General for International Order, the United Nations, and Arms Control at the German Federal Foreign Office, Patricia Flor, made the case for why we need the UN – one forum where states meet. In her talk, she highlighted the Sustainable Development Goals (SDGs), an effort to mobilise global action to end poverty, protect the planet, and ensure that all people enjoy peace and prosperity.
UNU-FLORES's Nexus Approach to sustainably manage water, soil, and waste bolstered the message on the need to break down silos particularly in academia, and to strive instead towards an integrated strategy. Only by bringing experts from different disciplines together can we work towards better informed policies and processes on the ground. By studying the interlinkages, tradeoffs, and synergies between different environmental resources we are better able to make decisions that lead to more sustainable outcomes. Such a perspective found resonance in the concept of "Lateral thinking" as advocated by another poster presenter from a local start-up.
Consistent with TEDx's aims of primarily serving and connecting the local community, the poster session provided an opportunity for local initiatives to showcase their projects. Taking place for three hours over two sessions, there was ample opportunity for presenters to interact heavily with the 700 participants at the sold-out event.
"We invited UNU-FLORES to contribute to TEDxDresden for their innovative approach towards a more sustainable management of environmental resources. This topic matched wonderfully our 'Embrace the Future' motto and we were pleased that the poster of UNU-FLORES stimulated plentiful discussion.
We look forward to further collaboration between TEDxDresden and UNU-FLORES."
– Christoph Sträter, Chairman of the TEDxDresden association
Based on the vibrant and engaging discussions at the poster session, TEDxDresden had certainly succeeded in echoing TED's mission very well: bringing world-class thinkers and committed participants together.