2020/11/11 Dresden, Germany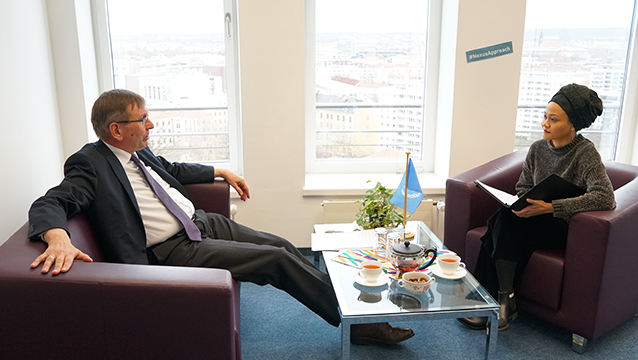 In the International Week of Science and Peace, we bring to you our exclusive interview with Dr Floor Brouwer, an environmental economist at Wageningen University & Research. The UN observance commemorates the value science brings for society and promotes international cooperation among scientists. In this piece, we explore how nexus thinking can have a positive impact on policy and how scientific cooperation can advance that.
---
Interview by Atiqah Fairuz Salleh, Communications and Advocacy
You are the scientific coordinator of SIM4NEXUS and lead the Steering Committee of the Nexus Project Cluster. Tell us about the emergence of nexus thinking from your scientific experience.
I believe the emergence of the Nexus is heavily motivated by the global challenges on water. Water is too often the sector suffering from human activity be it in energy or food production. We can explore these topics in bilateral examples, e.g., water and food are a classical case but too often we overlook the energy sector. Not to forget land – that is about the environment, ecosystem services, biodiversity, and, above all, climate change. My colleagues and I found the interlinkages between water, energy, land, food, and climate make up a relatively comprehensive package.
We started the project SIM4NEXUS in 2016 acknowledging the importance of these interlinkages. Understanding the physical flows is a natural science approach. The uniqueness of SIM4NEXUS lies in the governance part that forms an essential component of understanding the Nexus and its solutions. We seek for approaches to save water in food and energy production and to use our land more efficiently. While technological innovations are important, in the Nexus concept, social innovations become increasingly important. The dimension of social sciences is key to make the Nexus concept unique in its way it overcomes problems, one where better decisions can be driven either by policy, business, or the public/consumers. The Nexus Project Cluster – of which UNU-FLORES is a founding member – is a group of independent research initiatives that team up for increased and more impacting communication and dissemination of the Nexus.
Speaking of science for society, how does SIM4NEXUS operationalise the Nexus concept?
In our study of the science of the Nexus, we developed 12 case studies, mostly in Europe, ranging from regional to national, as well as transboundary case studies. Each case study has been developed by working with stakeholders. In all cases, we meet with policymakers and businesses, asking them if they would be interested to develop or to explore the concept of the Nexus and to see whether it can lead to better decision making for them. Transdisciplinary research is key. Based on the 12 case studies, we developed serious games with the knowledge and industry partners for people to play.
Responding to the lack of nexus modelling tools available in Europe, we developed a methodology of integration based on system dynamics modelling. An approach developed in the late 1960s and into the 1970s, the thesis "Limits to Growth" posits that exponential socioeconomic growth cannot go on forever on a planet where resources are finite. This was a wake-up call for humanity, and we adopted the approach to study the interlinkages and connections to build the database.
What do you see as potential challenges in implementing these serious games beyond Europe, considering the different circumstances worldwide?
I remember playing the game on Greece with summer school participants in Amsterdam, most of whom came from outside Europe. The case was a very complex model consisting of 14 regions. I was not able to reach the climate targets myself but a couple of young, committed women managed to do so and were able to even increase the climate score over time. They really showed that reaching climate targets is possible – you need to be consistent and firm in your measures. These players might not have been familiar with the conditions in Greece but were willing to play and found it very informative. They saw gaming as a way to develop new mechanisms and better foresight.
We are optimistic that the diversity of the games could be informative to people outside Europe where the global and European cases are unique among the 12. The global case is about the Nexus and the UN Sustainable Development Goals (SDGs), which I think have been a strong motivation to get the Nexus concept endorsed globally. In the game, players see how the perspective of interlinkages between water, energy, food, land, and climate allows to better achieve the SDGs.
What makes SIM4NEXUS serious games interesting is the consultations with knowledge and industry partners.
We argue that working with policymakers who take the decisions, is urgently needed to come up with and make the most of the Nexus concept. We need to study the Nexus at the regional, national, or transboundary level. We studied policy coherence in Europe, which fares considerably well, but there are serious challenges when it comes to implementation. The context is different everywhere – the challenges can be extremely different. For that reason, I think the Nexus concept is better to use at regional and national levels compared to a single region like Europe.
Looking at the different resources, we want to line up the activities at the water-energy-food-land- climate nexus to secure, for instance, water supply in the coming decades. Here, the Nexus concept could help, not to resolve it but help to showcase that by better taking into account the interlinkages and by adjusting the decision-making mechanisms accordingly, policymakers are able to manage their resources in an integrated and sustainable way.
When we talk about the transfer of knowledge between different stakeholders and – particularly policymakers – how do serious games help in terms of convincing them to implement Nexus solutions?
The game for Greece has been presented at the ministry, that found it really useful to be informed about interlinkages and seek ways their decisions in one ministry can impact and are affected by decisions in other ministries. When it comes to future research, the transition to a low carbon and circular economy is going to be a big challenge for Europe and the world. With Europe's great ambition towards becoming a low carbon economy in only three decades, there will be a big demand for Nexus research – to help understand linkages and propose measures if things go wrong.
What would you see as the main topics of priority for the future of Nexus research?
Resource efficiency will be a very important topic. Optimising our resource use remains very important. We cannot completely move away from resource efficiency and totally transform our economy into a circular economy. In food production, the whole mechanism in agriculture to some extent needs to seek ways to reuse materials and to become circular in its production process. At the end of the day, all the main parts of our economy are so connected to our daily life and so connected themselves that the Nexus has the potential to play an important role. However, we need to showcase convincing arguments that by adopting a Nexus Approach, we come to better decisions.