2013/11/13 Dresden, Germany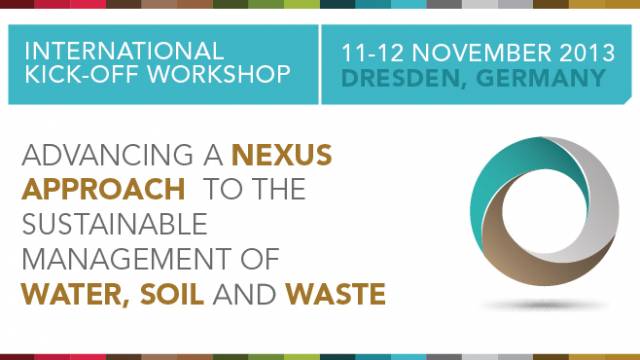 Start | General | Summary | Highlights | Presentations | Resources
The International Kick-off Workshop served as a starting point for the organisation of the future biannual Nexus Conference to be held in Dresden. By bringing together experts from national and international academia, government entities, UN agencies and UNU institutes, the workshop acted as a preliminary "steering committee" for the upcoming Nexus Conference. In the following sections, you can find the highlights of the workshop, a summary of the two days of the workshop, the full catalog of presentations held and case studies introduced, as well as some additional resources.
The workshop provided an update on current initiatives advancing a nexus approach, focusing on research initiatives exploring the nexus of water, soil and waste. Besides research, issues of capacity development were considered, including education and training as well as institutional capacity development. Examples and case studies on research projects, best-practices and curriculum requirements were introduced and discussed and provided an up-to-date overview on the issue.
The specific topics addressed during the workshop were:
Opportunities for adopting a nexus approach to the management of environmental resources and its relevance to the envisaged sustainable development goals and the post-2015 development agenda
Challenges for the nexus approach in managing water, soil and waste under conditions of global change
Capacity Development for research and education programmes addressing the nexus, in particular teaching and training programmes
Institutional arrangements and governance structures to facilitate the implementation of a nexus approach and its integration in land use planning and management strategies
The workshop also provided inputs to the White Book on the Nexus of Soil, Water and Waste, which will be finalised by early 2014 (the draft version of the White Book is available under Resources). The issues elaborated in this White Book will serve as a reference for future developments (e.g. defining  research and teaching programs in collaboration with partners) and as a roadmap for research and action. These issues will then also be taken up in the following Nexus Conferences.
The International Kick-off Workshop was convened by the United Nations University Institute for Integrated Management of Material Fluxes and of Resources (UNU-FLORES) and the Technische Universitдt Dresden (TUD) in Dresden/Germany on 11-12 November 2013.