2013/12/01 New Delhi, India
On December 18-19, UNU-FLORES and TERI University invite experts and practitioners to New Delhi/India for the first of a series of regional Nexus Observatory Workshops organized by UNU-FLORES. Stakeholders from the Asia-Pacific region will meet to discuss the relevance of adopting a life-cycle cost approach to project and programme planning of infrastructure projects. Workshop participants will be drawn from a wide cross-section involving academia, donor agencies and governments from countries as diverse as India, Iran, Japan, Malaysia and Thailand.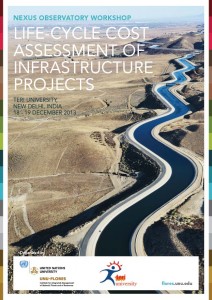 The participants will discuss case studies from different sectors such as water, sanitation, energy and transport to explore the relevance of life-cycle cost assessments in advancing a nexus approach to the management of environmental resources. The workshop will also document practical applications for project and program planning and explore opportunities for piloting life-cycle cost assessment approaches in the Asia-Pacific region.
Previous research on governance has concluded that costs of providing water and sanitation services are understated. This is because standard government measurement criteria does not account for support services and maintenance costs. Therefore, from a nexus perspective planners and decision makers may benefit from adopting a life-cycle cost approach that considers costs of constructing, operating and maintaining water and sanitation infrastructure over the long-term. This approach will employ a nexus perspective by emphasizing the importance of sustainability of infrastructure construction, operation and maintenance.
For 2014, UNU-FLORES plans additional nexus observatory workshops in Africa and Latin America.