2018/11/09 Dresden, Germany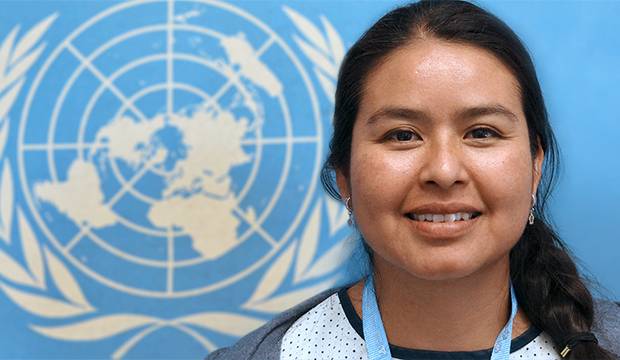 An interview with our visiting scholar, Ana Lilia Velasco Cruz, on her work on wastewater irrigation and quinoa production.
For almost a decade, Ms Ana Lilia Velasco Cruz from Mexico administered environmental projects for various partners such as the Environmental Infrastructure of the Valley of Hidalgo (FIAVHI) and the Puebla Valleys as well as the Magdalena River Trust. To complement her practical experience implementing and monitoring projects related to wastewater treatment plants and agriculture, she now pursues research on the topic. At UNU-FLORES, Ms Velasco Cruz worked with the Waste Management unit on the Safe Use of Wastewater in Agriculture (SUWA) initiative.
Interview by Atiqah Fairuz Salleh, Communications and Advocacy
Your area of research has much practical relevance to current food trends (read: quinoa) and the sustainable production of crops. Tell us more about it.
In Mexico, as in other countries, the trend of population growth, the growing demand for water, and the lack of quality food urge us to look for sustainable alternatives. In 2013, the Food and Agriculture Organization of the United Nations (FAO) recognised quinoa as an alternative to achieve global food security.
Quinoa indeed has a high protein content and it is a crop that can be adapted to different regions. They can grow in various ecoregions – from flood plains and at sea level to high mountainous regions (up to 4,000 metres above sea level). Quinoa is tolerant to both frost and dry seasons and adapts well to acidic soils (of pH 4.5 to 9.0). Moreover, it does not require large volumes of water to grow. The International Year of Quinoa launched by FAO in 2013 drew the world's attention to the role of quinoa and its nutritional value for food security and poverty reduction.
As part of my Master of Science in Agroecosystem Productivity at the Technological Institute of the Valley of Oaxaca, I am studying the use of treated wastewater for the production of quinoa in the Sierra Juárez, a mountain range in Oaxaca state, Mexico. I am looking at ways to improve the quality of food and in turn to preserve the quality of water and availability of nutrients in the soil in the best conditions. My end goal is to motivate the local population to adopt an integrated resource management.
You grew up in Oaxaca, the study area of your research. What triggered you to embark on research on SUWA in the region?
In Oaxaca, Mexico there is a low level of wastewater treatment and the trend is to use wastewater without treatment for agricultural irrigation. I believe that the safe use of wastewater in agriculture (SUWA) can be the way to achieve sustainable outcomes. We can preserve groundwater for human use while promoting treated wastewater for food irrigation. This would improve the quality and health of produce – and therefore, improves the health of the local population – when compared to using untreated wastewater irrigation.
How does a stint at UNU-FLORES add value to your research work?
UNU-FLORES gave me not only the knowledge on how other countries deal with SUWA but also provided me access to a network of academic experts that deal with the same topic. This unique experience has met my expectations because I have found support in both technical and social aspects of water reuse.
What are your hopes for SUWA in the future?
SUWA is one important piece of the puzzle to counter global threats such as water scarcity and natural resources conservation. SUWA could increase the value of wastewater via nutrient recycling in agriculture and thus buffer the increasing worldwide loss of soil fertility. I hope we will finally place emphasis on the 'S' without removing the nutrients in SUWA and bring safety to the forefront – through treatments that are environmentally friendly and financially achievable – to minimise the impact of pollution on natural resources via wastewater. Subsequently, implementation according to the local context of different countries will be needed.
SUWA is key to achieving Sustainable Development Goal 6. The evident benefits that SUWA could provide to developing countries easily correlate to the increasing interest in and application of wastewater treatment in such countries.
The Visiting Scholar Programme of UNU-FLORES provides qualified scholars an opportunity to undertake research on topics related to Systems and Flux Analysis, Capacity Development and Governance, Water Resources Management, Soil and Land-Use Management, Waste Management as well as other material fluxes and resource management disciplines.