2018/07/23 Dresden, Germany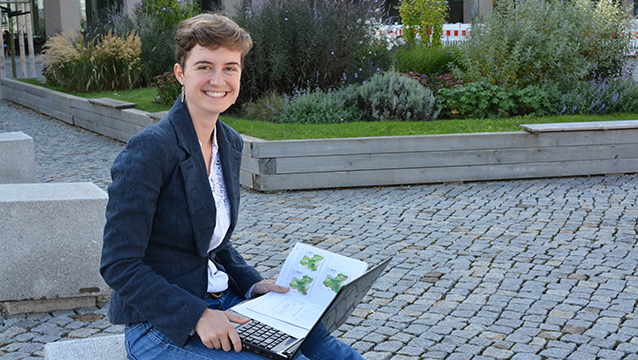 UNU-FLORES offers a rigorous internship programme giving students and recent graduates the opportunity to develop new skills and knowledge in a constructive setting for the practical application of their capacities acquired during their studies. Through hands-on experience, interns work in a variety of areas from academic research, event organisation, communications and advocacy, and institutional development and administration. In this series, we feature the young brilliant minds that have played a big part in many of our activities and events. In this interview, we talked to Hilke Zündorf from Germany, who worked with the Systems and Flux Analysis Considering Global Change Assessment unit.
Tell us about yourself. What is your motivation to do an internship with UNU-FLORES?
UNU-FLORES caught my attention because it crosses borders at different levels. At the professional level, UNU-FLORES tries to overcome borders between scientific disciplines and at the personal level, UNU-FLORES brings together people of many different backgrounds.
Being a Hydrology Master's student with a Bachelor in Physics, I very much identify with interdisciplinarity as I have already experienced how challenging it is to communicate different approaches and how rewarding it is to successfully combine knowledge and skills across disciplines.
What are some of your day-to-day responsibilities? What types of projects do you work on?
During my two months at UNU-FLORES, I was part of the Systems and Flux Analysis Considering Global Change Assessment Unit. I have mainly worked on the Nexus Tools Platform, which is an interactive online tool for choosing models within the nexus of water, soil, and waste. At the point when I started working on it, the profiles of 74 models were online and ready for interactive comparison. My task was to find new literature for the already existing database entries where I had to learn some basics about bibliometrics (the quantitative analysis of search engine results). Furthermore, I expanded the database with more models that are also now online.
What kind of skills do you need to be successful at your internship?
The two main skills that I found to be crucial for my internship were the ability to work independently and to scrutinise both other people's methods and findings as well as your own work. Deeper understanding has always been rewarding, generating new motivation for scientific work.
UNU-FLORES is an empowering place, where your ideas are heard and discussed in a professional and truly welcoming team. With some open-mindedness and curiosity, the UNU-FLORES internship programme definitely has the potential to be a rewarding experience.
What are some words of wisdom you'd give to anyone aspiring to be in your position?
The internship has given me valuable insight into different aspects of the UN System and into research in an interdisciplinary field. It was an honour to be part of the UNU-FLORES internship programme. I consider the internship to be a big step in my career that also helped me to gain orientation for the time after graduation. In particular, I am grateful for the network I could establish on the professional as well as personal level and I would like to thank everybody at the institute for making my stay rich in variety!