2020/04/02 Dresden, Germany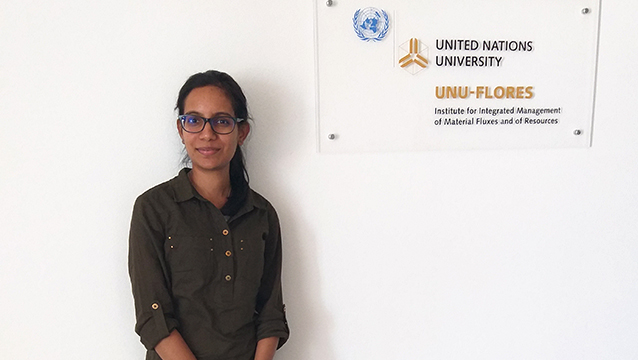 Image: Shilpa Rumjeet
A brief interview with our visiting scholar, Ms Shilpa Rumjeet, on the circular bio-economy and the interdisciplinary perspective towards SDG6.
Ms Shilpa Rumjeet works at the Centre for Bioprocess Engineering Research (CeBER) at the University of Cape Town, South Africa. As a Green Talents awardee, she was awarded a research stay by the German Federal Ministry of Education and Research (BMBF). Before joining CeBER, she worked as Teaching Assistant and Assistant Lecturer in the Department of Chemical Engineering at the University of Cape Town, and as a Bioprocess Engineer for a startup company located in Mauritius, where she is from. As a visiting scholar at UNU-FLORES, she conducted research activities in collaboration with Prof. Edeltraud Guenther and Dr Serena Caucci.
Interview by Atiqah Fairuz Salleh, Communications and Advocacy
We have heard of circular economy. Your core research interest is the circular bio-economy – what exactly does this entail?
A circular economy by design is one where the core focus is on recycling material and energy such that there is no waste. By adding in the bio feature, it means that there is an incentive to use biological resources such as biomass in cyclic processes to produce bioenergy and bioproducts. In this light, there is a constant recycling of nutrients such as carbon, nitrogen, oxygen, and phosphorus without any of these resources going to waste.
Your work focuses on wastewater and resource recovery. Tell us how this fits within a circular bio-economy.
This follows up on the recycling of nutrients since wastewater usually contains valuable resources in the form of carbon and nitrogen particularly. By identifying the value of these nutrients, we can harness them from wastewater through biological processes by using microorganisms to feed on those nutrients to produce value-added products such as biofuels and bioplastics. Thus, we are able to remove nutrients from wastewater which will otherwise contribute to a high pollution load upon disposal and in tandem get products of value from a waste stream. In essence, wastewater is treated as a valuable resource and raw material.
How does a stint at UNU-FLORES add value to your research work?
Foremost, the UN network is an extensive one to benefit from and I greatly valued the experience of working with a UN entity. I worked closely with Dr Caucci on a pre-feasibility study in identifying the challenges in facilitating the uptake of treated municipal wastewater for industrial practices in the European Union. We identified stakeholder analysis as a crucial component in ensuring success and my home research group is very keen for me to integrate these findings in some of our ongoing projects related to wastewater management. Owing to the interdisciplinary nature of the work, I had the opportunity to look at a technical problem through a different lens (social and policy) and this brings additional insights to my everyday work.
What would you say are the two most pressing challenges to achieving Sustainable Development Goal 6 (Clean water and sanitation)?
I think this is a multifaceted issue stemming from various social, economic, and political problems. However, I think one pressing challenge is to fix the politically unstable environment present in some countries that are struggling to provide their population with basic human needs. Secondly, I think education is key to incentivise people and communities to expect more from their government and demand access to clean water and sanitation.