2018/08/03 Dresden, Germany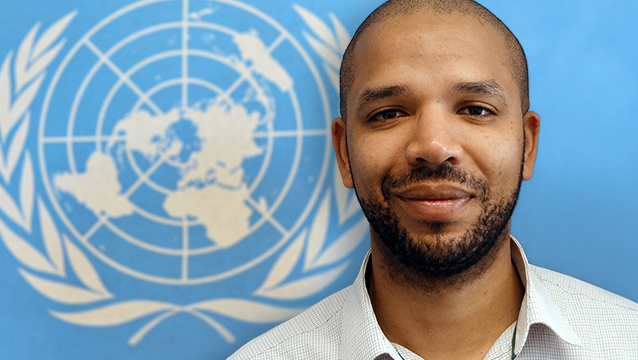 An interview with our research fellow, Mr Cristian Rivera Machado, on the waste-energy nexus and his work advancing the science-policy interface.
Mr Cristian Rivera Machado worked for over four years in the Ministry of Environment and Sustainable Development supporting policymaking processes in his native country, Colombia. As a renewable energy and waste management specialist, he has taken part in an interdisciplinary research cooperation project titled "Health and Environment Internalisation Costs of Waste Management" with the Colombian National University. At UNU-FLORES, Mr Machado works with the Waste Management unit to assess the status of municipal solid waste management and its policies in Colombia.
Interview by Atiqah Fairuz Salleh, Communications and Advocacy
As a renewable energy and waste management specialist, your work has a strong focus on the nexus of waste and energy. Tell us more about how these sectors relate to each other and the value of considering the nexus between the two.
Shortly after graduating as an environmental engineer, I worked for the Environmental Authority of Cundinamarca (central state of Colombia) in the Cleaner Production project in the panela (unrefined natural brown sugar) sector. Cleaner Production is a preventive, company-specific environmental protection initiative. Seeing how farmers used crop residues from sugar cane as an energy source to make the panela made me fascinated by the nexus between waste and energy. This experience encouraged me to undertake my master's degree in Renewable Energies. Later as a research assistant, I continued to deepen my interest in the Nexus Approach through a Waste-to-Energy (Pyrolysis) research project in the wine industry in Spain.
The nexus between waste and energy can be illustrated in different ways: organic waste can be used to generate energy as biogas through pyrolysis processes or biomass gasification, and on the other hand, inorganic waste can be generated by processes such as pyrolysis, gasification, plasma, or incineration. All processes generate value by extracting the energy content of materials as well as create jobs, economic income, knowledge, and technological exchange.
In Colombia, around 26,000 tonnes of solid waste are disposed of daily, mostly in landfills. In this context, considering the nexus between waste and energy would be a step forward in the generation of renewable energy from waste. Likewise, it would contribute to addressing the challenges of energy supply in the country for the next years.
What are you working on specifically while you're here at UNU-FLORES and how does the Nexus Approach add value to your work?
At UNU-FLORES, I am developing research on organic waste management in Colombia. In the first phase, I looked at the case of the Cajicá municipality for its outstanding management of organic waste. In 2017 Cajicá was selected by UN Environment as one of the five new cities that are taking actions to reduce pollution through integrated waste management. Since 2008 Cajicá runs the programme "Canecas Verdes" for organic source separation and selective collection. Through very intense educational activities, the city achieved a selective route of organic waste management that covers 100% of the urban area, and processes around 250 tonnes of organic waste per month by composting. The municipality is nowadays a role model in this area in the region.
Composting is a very relevant case for the Nexus Approach as there is a strong relationship between water, soil, and waste. Organic waste is decomposed by means of an aerobic biological process, resulting in fertiliser of good quality. The produced compost can provide nutrients, organic matter, and humidity to the soil. Moreover, it decreases the generation of greenhouse gases and improves soil conditions, such as moisture retention, porosity, and structure.
Besides research, your work also relates to the development of regulations and public policies. Could you explain how they feed each other?
The next phase of my research at UNU-FLORES will be focused on identifying opportunities for improving public policies and regulations in organic waste management in Colombia.
I worked for four years in the Ministry of Environment and Sustainable Development of Colombia developing policies and regulations mainly in waste management topics. There, I had the opportunity to learn how a regulation is developed from scratch and its relationship with the processes of research, development, and innovation. The relationship between research and policymaking can basically be understood in two senses: first, research provides a technical basis for the elaboration of regulations and policies; and second, it helps policymakers measure the effectiveness of the regulation and the impact achieved.
During the conceptualisation of policies and regulations, it is essential to ensure a participatory and multidisciplinary process with all the stakeholders involved. In addition, the research carried out by the stakeholders – such as those from academia, industrial sectors, NGOs, and other public entities – are inputs and technical data to support decisions.
My stay at UNU-FLORES has been very inspiring; it helps me with designing some projects within the Nexus Approach framework that I can later develop in Colombia.
What do you think is the one gap that needs to be addressed in the science-policy interface?
In Colombia, the gap that needs to be addressed in the science-policy interface is basically the bidirectional communication between government and the scientific community. The academic sector conducts very significant and innovative research in different fields. However, many of these investigations are not aimed at solving the problems of the country, and moreover, are not readily available to policymakers. Likewise, in some cases, policymakers struggle with specific situations, and sometimes do not manage to respond to suggestions or recommendations from academia. In Colombia, attempts have been made to boost communication between the national government, industry, and academia – the so-called "Golden Triangle". Even so, for different reasons there are no effective tools to facilitate such conversation yet.
In a bid to build a bridge between science and policy, I recently founded an NGO (Lumbilá) that aims to become a platform boosting the science-policy interface through environmental education. We aim to disseminate the regulations issued by the national government in the local and regional territory, as well as to empower key actors to participate in policymaking processes. Our objective is also to address concerns and offer scientific advice and recommendations to the government for policy processes within the Nexus Approach framework. In this way, research results from the national and international scientific community can serve as inputs for developing adequate policies and regulations for protecting the environment and improving the quality of life for the people.