2013/12/18 New Delhi, India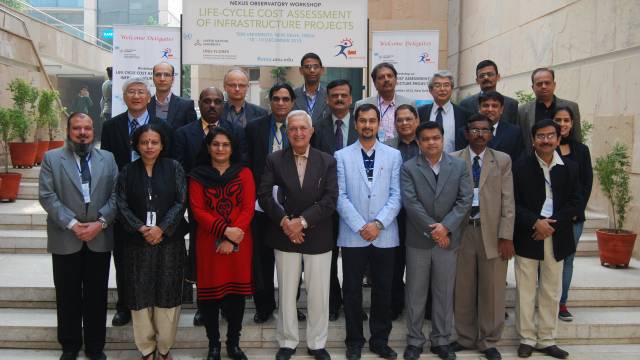 On the morning of December 18th, the first UNU-FLORES Nexus Observatory Workshop on "Life-cycle cost assessment of Infrastructure projects" was inaugurated at Teri Universiy in New Delhi/India. The delegates from countries as diverse as India, Iran, Japan, Malaysia, Singapore and Thailand were welcomed to the two-day workshop by Dr. Leena Srivastava, the Vice Chancellor of Teri University. Introducing the workshop, the Director of UNU-FLORES, Dr. Reza Ardakanian, expressed his hope that the workshop will draw upon the combined expertise of the participants from sectors as varied as transport, energy, water and wastewater in Asia and Europe to ensure that a nexus approach is advanced to the sustainable management of environmental resources and infrastructure.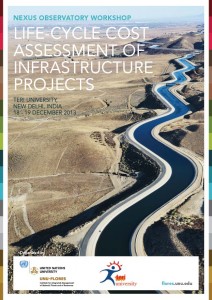 In the following keynote speech, Mr. Gajendra Haldwea, Advisor of the Planning Commission of the Government of India, stressed the relevance of life-cycle cost assessment in planning public sector projects in water, wastewater, transport and energy sectors. Mr. Haldwea also expressed an interest in working closely with other participants to explore ways in which life-cycle cost analysis can be advanced.
The workshop, which is co-organized by UNU-FLORES and Teri University, is the first of a series of UNU-FLORES regional Nexus Observatory Workshops. The participants, coming from academia, donor agencies and governments, discuss case studies from different sectors such as water, sanitation, energy and transport to explore the relevance of life-cycle cost assessments in advancing a nexus approach to the management of environmental resources. The workshop also documents practical applications for project and program planning and explores opportunities for piloting life-cycle cost assessment approaches in the Asia-Pacific region.
For 2014, UNU-FLORES plans additional nexus observatory workshops in Africa and Latin America.