2019/01/14 Dresden, Germany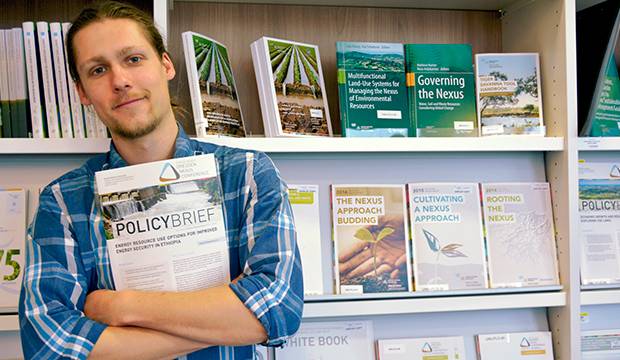 UNU-FLORES offers a rigorous internship programme giving students and recent graduates the opportunity to develop new skills and knowledge in a constructive setting for the practical application of their capacities acquired during their studies. Through hands-on experience, interns work in a variety of areas from academic research, event organisation, communications and advocacy, and institutional development and administration. In this series, we feature the young brilliant minds that have played a big part in many of our activities and events. In this interview, we talked to Cornel Dick from Germany, who worked with the Communications and Advocacy unit.
Tell us about yourself. What is your motivation to do an internship with UNU-FLORES?
Since I am currently enrolled in the bachelor degree programme in political science at Technische Universität Dresden, my focal interests clearly lie with policies. Even though the politics of environmental issues and of resource management are – at best – only considered marginally in the research agenda of political science (in political science traditionally regarded as 'low politics'), in my perception the sustainable management of resources we focus on at UNU-FLORES is the pivotal issue of our time. This should be considered in and across every scientific discipline. Thus, from a social science background, being able to look into this particular policy field at such an internationally renowned institute and thereby contributing to the creation of a sustainable society, comprised the most part of my motivation to do an internship at UNU-FLORES.
What are some of your day-to-day responsibilities? What types of projects do you work on? What's your favourite part of work/highlight of your internship?
My duties covered a broad range of topics. The nucleus of daily 'chores' could be described as knowledge management: this includes responsibilities like keeping the library in order or maintaining a sound overview of all the printed materials of the Institute. Another big thing in my daily schedule was promoting the activities of the experts (e.g., through social media or on our website) and keeping track of the impact of their scientific work. Bigger projects were strongly related to the website: I worked on the improvement of our website's usability and the interconnectedness of its content. The task I enjoyed the most, though, was always the writing of news stories for the website, promoting the scientific activity of our researchers. These were incidences where I got engaged with a distinct, content-related issue in a very intensive manner (e.g., writing about a journal article).
What kind of skills do you need to be successful at your internship?
First and foremost, it's all about adaptability. Doing an internship at the Communications and Advocacy Unit at UNU-FLORES will lead you to many a diverse tasks and will require you to acquire a lot of different skills. In addition, a kind of literacy – meaning a certain confidence with the usage of language –, a structuredness in your acting and a, let's say, 'affinity' to media are advantageous.
What are some words of wisdom you'd give to anyone aspiring to be in your position?
Be open-minded and try to keep your prejudices at bay (even though they are subconsciously always there). Problems, people, and situations usually turn out to be different and more complex than you would expect.