2018/01/28 Dresden, Germany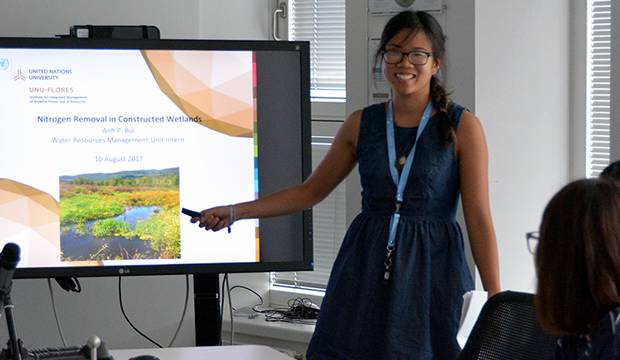 UNU-FLORES offers a rigorous internship programme giving students and recent graduates the opportunity to develop new skills and knowledge in a constructive setting for the practical application of their capacities gained through their studies. Acquiring hands-on experience, interns work in a variety of areas from academic research, event organisation, communications and advocacy, and institutional development and administration. In this series, we feature the young brilliant minds that have played a big part in many of our activities and events. In this interview, we talked to Anh Bui from USA, who worked with the Water Resources Management Unit.
Tell us about yourself. What is your motivation to do an internship with UNU-FLORES?
My name is Anh P. Bui, and I am a Master of Science student in environmental engineering. I completed my undergraduate in biosystems engineering with a specialisation in ecosystems. My aim for my Master's programme was to focus on an aspect of Water Resources Management. When I am not working, I enjoy outdoor recreational activities. I was motivated to complete an internship at UNU-FLORES because it would give me the opportunity to learn with a purpose.
What are some of your day-to-day responsibilities? What's your favourite part of work/highlight of your internship?
On a regular basis, I conduct research on constructed wetland nutrient. Typically, I am collecting data, meeting with other colleagues to discuss my work, and attending seminars. I review journal articles to acquire information germane to my work. My work is a contribution to a database that will be used to model wetland nutrient removal for water reuse. My favourite part is the opportunity to learn and discover something new. That is the glory of research. I also like that the internship gave me people to connect with immediately. This is good when moving to a new city.
What kind of skills do you need to be successful at your internship?
In this internship (and quotidian life), communication is vital. This includes communication with my colleagues and advisor. People have different perspectives and ideas based on their work. I can even learn a lot from a casual as opposed to a deliberate discussion. In addition to that, organisation is also key. It is important to have detailed notes, and proper citations. Organisation will help save a lot of time in advance. The Institute also offers opportunities such as PhD seminars, Nexus Seminars, and workshops. Attend some to learn something that is helpful to your field of research. If you have the opportunity, undertake presenting your work as well. You will receive feedback and increase your confidence as a presenter.
What are some words of wisdom you'd give to anyone aspiring to be in your position?
Some ''words of wisdom'' I would relay to an individual aspiring to be in my position is that your work is a learning process that will take time. Don't get frustrated if just understanding textbook knowledge is time-consuming. You cannot be efficient unless you understand the rudiments of what you are working on. It is easy to become overzealous to generate a deliverable. Do not be afraid to ask questions. In addition, don't take life too seriously. Enjoy lunch, the social atmosphere, and the friendliness exhibited among the colleagues. You will fabricate a better relationship and enjoy your time in the office at UNU-FLORES more. It will also be easier to approach your colleagues with challenges within your work as well.