2015/03/26 Dresden, Germany
25 March 2015, Dresden. – Over 350 participants from 65 countries came together on the opening day of the Dresden Nexus Conference 2015 (DNC2015), organized by UNU-FLORES, the Technische Universität Dresden and the Leibniz Institute for Ecological Urban and Regional Development. Representatives from nine United Nations (UN) entities, six additional international organizations, eleven universities and research institutions and seven UN Member states as well as various foundations and technical assistance agencies were joined by members of the German government from federal, state and municipal levels.
Under the umbrella "Global Change, SDGs and the Nexus Approach", Day 1 at DNC focused on how adopting a nexus approach may mitigate the growing water, food and energy insecurity due to climate change from an environmental resources perspective. Participants were welcomed to the conference by Dr. David M. Malone, Rector of the UN University and UN Under-Secretary-General (video message). Following this address, Volker Rieke, Directorate General at the German Federal Ministry of Education and Research (BMBF); H. E. Eva-Maria Stange, Saxon State Minister for Higher Education, Research and the Arts (SMWK); Prof. Hans Müller-Steinhagen, Rector of the Technische Universität Dresden, and Franz-Birger Marré, Head of Division for Water, Urban Development and Transport German Federal Ministry for Economic Cooperation and Development (BMZ) gave opening remarks.
In the second half of the morning plenary session, Assistant Secretary-General Elena Manaenkova from the World Meteorological Organization gave the first keynote speech on "Addressing climate change in the context of sustainable management of natural resources". The second keynote, on "Systems thinking for advancing a nexus approach to water, soil and waste" was delivered by Joseph Alcamo, Executive Director of the Center for Environmental Systems Research.
From 11:00 a.m. till 12:30 p.m. and again from 14:00 a.m. to 15:30 p.m., participants had the opportunity to visit six different parallel sessions that looked at various aspects of applying a nexus approach to addressing climate change.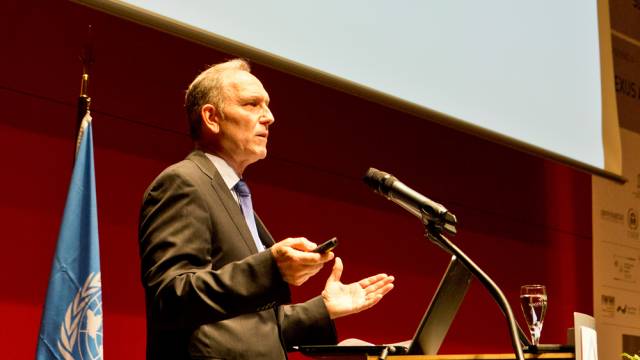 All participants assembled again in the late afternoon to collect the results of the first day. In this plenary session – moderated by János Bogárdi from the Center for Development Research at the University of Bonn – the outcomes of the parallel session were reported on. Thereafter, the panellists, including among others H.E. Mohamed Higazy, Ambassador of the Arab Republic of Egypt, led a discussion on these results that worked to put these results in perspective.
The first day of DNC 2015 was concluded with a talk by Professor Rabi Mohtar from the Texas AM University synthesizing all the outcomes of the day. Day 2 at DNC will focus on the challenge of urbanization.