2018/12/07 Chemnitz, Germany
Discussions and awards at the Saxonian Sustainability Conference focus on the importance of applying a comprehensive understanding of sustainability.
On 29 November 2018 local advocates from civil society, government, and academia met at the 6th Saxonian Sustainability Conference in Chemnitz. Focusing on strategies for the sustainable use of water, soil, and waste, the organisers of this year's conference strove to underscore the broadness of the concept of sustainability.
In welcoming remarks from Oliver Schenk (Head of the Saxon State Chancellery), Felix Finkbeiner (Founder of Plant-for-the-Planet), and Dr Dieter Füsslein (Hans-Carl-von-Carlowitz Association), participants were reminded that sustainability requires solutions that not only address environmental, but also economic and social factors.
The importance of a comprehensive and broad view was also highlighted by UNU-FLORES's Nexus Approach Exhibition, which was displayed in the lobby during the Conference. The exhibition provided visitors an introduction to what an integrated approach to environmental resources management can look like – the Nexus Approach. It outlines how this approach enhances our understanding of the sophisticated and complex linkages in the natural world and reminds us to take all these interconnections into consideration in our efforts to advance sustainability in our society.
Additional highlights of the event were the presentation of the Hans-Carl-von-Carlowitz Sustainability Award and the adoption of a Cooperation Agreement between the Technische Universität Dresden (TU Dresden) and the Hans-Carl-von-Carlowitz Association. In his remarks, Prof. Hans Müller-Steinhagen (Rector of TU Dresden) stressed that efforts to advance sustainability cannot be bound by borders and praised the successful efforts of the Carlowitz Association, UNU-FLORES, and PRISMA – Centre for Sustainability Assessment and Policy at TU Dresden to foster collaboration both locally and outside the region.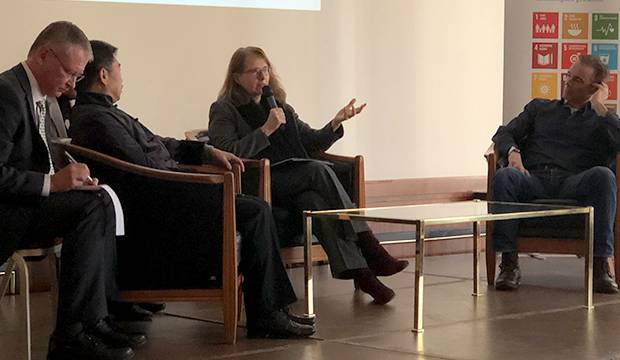 The Hans-Carl-von-Carlowitz Sustainability Award was presented in the categories "National" and "International" to Hannes Jaenicke and Du Shaozhong, respectively. UNU-FLORES Director, Prof. Edeltraud Guenther, moderated a roundtable between the awardees. In addition, breakout groups discussed how we can turn knowledge into action through education, inspiration, and mobilisation.
The Award is in memory of Hans Carl von Carlowitz. His call to grow and use wood in a continuing and "sustained" manner in his book Sylvicultura Oeconomica (1713) is considered the first clear formulation of the term 'sustainability' – in German Nachhaltigkeit. Carlowitz developed the concept 300 years ago in the context of using environmental resources sustainably, in this case wood. For several years now, the Hans-Carl-von-Carlowitz Association in Chemnitz – the birthplace of this historic environmentalist – has been committed to raising awareness of sustainability through the bestowing of the Carlowitz Sustainability Award.