2016/12/21 Ha Noi, Viet Nam
Reporting by Atiqah Fairuz Salleh, Communications and Advocacy
A healthy water environment is essential for drinking water supply, irrigation, public health, and recreational enjoyment. In Asia where it is predicted that the number of megacities will increase to 30 by 2025, questions of water use, wastewater treatment, infrastructure, and disaster risk management become increasingly pressing. Taken within the context of global changes, including urbanisation and climate change as well as unpredictable risks, the issue becomes ever more complex.
The 12th International Symposium on the Southeast Asian Water Environment (SEAWE), that took place in Ha Noi, Viet Nam on 28–30 November 2016, provided a forum for exchange between water professionals, including researchers, policymakers, and NGOs. The symposium was organised by the National University of Civil Engineering (NUCE, Viet Nam), the Research Center for Water Environment Technology (UT, Japan), and the Southeast Asian Center for Water Environment Technology (AIT, Thailand).
UNU-FLORES researcher Kristin Meyer from the Capacity Development and Governance unit joined the debates in Ha Noi. She presented a paper on "Fostering Regional Cooperation and Collaboration Frameworks between Researchers and Policymakers through Policy-Relevant Nexus Research: Experiences of Nexus Observatory Regional Workshops in Asia" that emphasised the importance of governance, regional cooperation, and the value of applying a Nexus Approach.
A multitude of topics was discussed as reflected in the diverse oral and poster presentations.  It was established that wastewater management and infrastructure, and increasing water pollution and demands on groundwater resources are particular concerns for Asia. While overlapping planning responsibilities between various sectors complicate decision-making processes and hinder policy coherence, bringing together different actors allows for intersectoral dialogue to take place.
SEAWE participants also had the opportunity to attend a session on groundwater pollution control organised in parallel by the Water Environment Partnership in Asia (WEPA, Japan). With a particular focus on governance, policymakers presented and discussed national challenges relevant for the whole region at the WEPA session. This not only facilitated learning between participating countries but also strengthened links between research and practice.
Back-to-back to SEAWE UNU-FLORES also participated in a consultation workshop in Ha Noi, Viet Nam, organised by UNU-IAS Water and Urban Initiative. The main aim of the Water and Urban Initiative is to advance sustainable urban development by creating scientific tools to forecast the future state of urban water environments. Local policymakers, researchers, and practitioners, including private companies attended the consultation. A subsequent meeting with team members of the UNU-IAS initiative was useful to exchange information on the work of both institutes in the Asian region.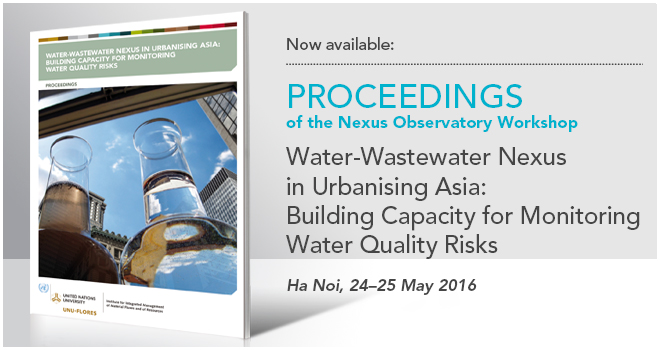 In May 2016, UNU-FLORES organised a Nexus Observatory Workshop on the Water-Wastewater Nexus in Urbanising Asia that opened discussion about monitoring approaches of Sustainable Development Goal Target 6.3. Based on discussions during the two-day workshop, researchers agreed that data collection, management and sharing are major challenges. The main outcomes of the workshop are as captured in the newly released proceedings.
---
Further Reading
Meyer, Kristin and Mathew Kurian. 2016. "Water-Wastewater Nexus in Urbanising Asia: Building Capacity for Monitoring Water Quality Risks." Proceedings of the Nexus Observatory Workshop, Ha Noi, 24–25 May 2016. Dresden: UNU-FLORES.