2017/04/12 Dresden, Germany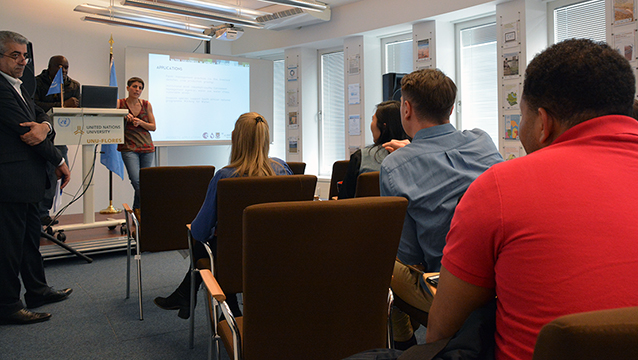 Reporting by Amélie Steu, Intern, Communications & Advocacy Unit
The Kruger National Park in South Africa supports, like many other savanna ecosystems, wildlife as well as livelihoods. However, in such an environment where droughts naturally occur and there is a distinct dry season with no rain and high temperatures, water needed for survival is not always readily available making water management a crucial challenge. This is why developing a mechanism for monitoring water availability and vegetation dynamics paves a way towards solving water-related problems in savannas.
In their lecture on "Remote Sensing for Water Management in African Savanna (Kruger National Park)", Ana Andreu Mendez (UNU-FLORES) and Timothy Dube (University of Limpopo) introduced their project under the TIGER initiative: "Remote Sensing of Water Use and Water Stress in African Savanna Ecosystem from Local to Regional Scale: Implications for Land Productivity".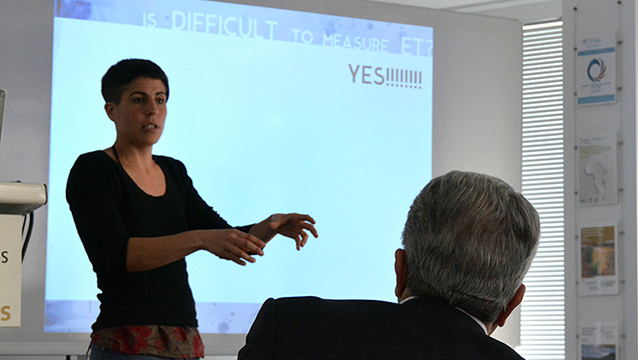 To monitor the African savanna ecosystem, Andreu and Dube jointly work on a project that aims to develop a modelling framework to quantify savannas' water use and to determine the spatial distribution and effects of invasive species on water resources. They deal with several questions such as the need for different physical, biological, and mathematical frameworks due to the integration of several data sources, models, and scales.
Indeed, the vegetation found on savannas is heterogeneous and complex, the phenology and physiology are multiple, and the climate is variable. Developing a common model, therefore, is a challenge. In this case, using Earth Observation (EO) tools offers several advantages such as: global coverage, non-destruction, immediacy of the information, its digital format, and cost. Andreu and Dube resort to a range of tools (visible (VIS), Near-InfraRed (NIR), and Thermal Infra-Red (TIR) sensors, etc.) to measure specific data (soil moisture, vegetation structure, surface temperature, water, etc.).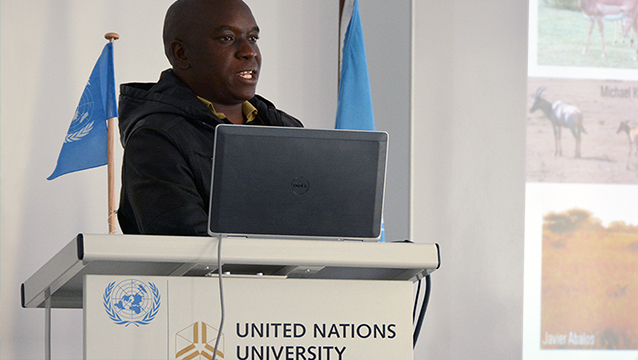 The TIGER initiative was launched in 2002 in response to the World Summit on Sustainable Development. A hundred and fifty African institutions in 42 countries are involved in this project. The TIGER initiative consists of four steps. Firstly, scientific researches obtain sustainable, free, and operational data, which is provided by sentinels. Then, they transform this data using operational software tools and infrastructures such as the Water Observation and Information Systems (WOIS). Thirdly, trainings and research and development are conducted in view of sharing the operational data with technical experts. Finally, the information is integrated into decision-making processes.
In relation to this last step, an important concern was raised at the end of the lecture. How can the operational data be applied and used by local farmers on the ground and how can it directly benefit the community? Farmers obviously do not have the resources to gain access to operational data, thus technical experts are needed to make use of the software tools. In response, Andreu and Dube explained that workshops are organised to train representatives of economic, agricultural, or development departments and ministries to use the tools so that they can integrate the derived information in local decision-making processes. For example, Andreu has already had the opportunity to present the EO tools during a training course in Harare, Zimbabwe last November.
Taking place on 10 April 2017 at UNU-FLORES, this lecture was part of the Nexus Seminar series. The next Nexus Seminar will take place on 22 May at TU Dresden. Dr. Mareike Braeckevelt from the Center for Advanced Water Research will speak about "Tackling Key Challenges to Global Water Sustainability at the Center for Advanced Water Research".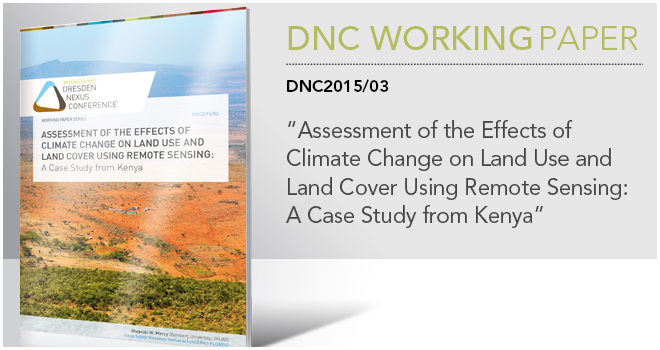 ---
Further Reading
Mercy, Mwaniki W. 2017. "Assessment of the effects of climate change on land use and land cover using remote sensing: a case study from Kenya." DNC Working Paper Series. Dresden: UNU-FLORES.