2021/02/15 Dresden, Germany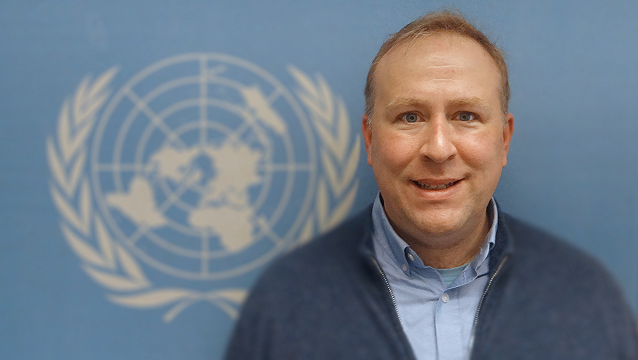 With over two decades of research and teaching experience related to hydrology, water quality, and aquatic resources management, and a career spanning across Germany, Central Asia, South Asia, and Sub-Saharan Africa, Prof. Daniel Karthe now heads UNU-FLORES's research programme on the 'Resource Nexus for Regions in Transformation'. We caught up with our expert to discuss his vision.
---
Interview by Atiqah Fairuz Salleh
You have worked in various regions in transformation from Central Asia to Sub-Saharan Africa. What do we have to pay attention to in terms of transformation processes and why is this important for research?
In the 21st century, the pace and magnitude of environmental and socioeconomic changes are greater than ever before. Transformations which in the past occurred over decades, centuries, or even geological timescales now happen in much shorter time periods. The profound environmental, social, and economic changes of the modern age are closely interwoven and therefore require research approaches that consider a wide range of aspects in an integrated way.
Going beyond the temporal scale, how is the Resource Nexus relevant for regions in transformation?
Regions in transformation are characterised by changes that significantly change their socioeconomic or natural environment. One good example is the energy transition and the massive changes it causes in regions with a long history of coal, oil, or natural gas extraction and with a carbon-based economy. Such regions do not only have to cope with the environmental legacies of mining; they also have to manage the economic, social, and demographic impacts caused by the decline of 'old' industries. At the same time, such regions have the potential to reinvent themselves as drivers of a second energy revolution. But there is one regard in which we should learn about the mistakes of the past: when introducing green technologies in the energy sector, in industry, transportation, etc., we should – from the onset – consider their potential implications and their interlinkages for the biotic and abiotic environment.
What does this mean for policy and capacity development?
The Resource Nexus is not only a concept that guides inter- and transdisciplinary research on sustainable development; it is similarly relevant from a policy and capacity development perspective. In fact, research for sustainability is not a self-purpose; only research outcomes that are transferred into education and policy are likely to have an impact in the real world.
Tell us what – in your view – is the top challenge for the Resource Nexus.
The concept of the Resource Nexus is still relatively young. The idea of considering water, food, energy, (and ecosystems) in an integrated manner has been popularised in sustainability science and policy over the past decade. Since then, different Nexus constellations, such as the Water-Soil-Waste Nexus, have developed. This ultimately led to the emergence of the Resource Nexus, which forms the most comprehensive and holistic approach to date. But the high level of integration and complexity can be challenging to scientists and policymakers alike. In particular, a broad and open discussion is needed on how to further advance and operationalise the Resource Nexus concept.
What are your hopes for Resource Nexus research?
Despite all challenges and limitations, the Resource Nexus approach is without alternative for solving the complex environmental challenges of the 21st century, and their interlinkages with social and economic development. I, therefore, hope that the Resource Nexus will be further advanced conceptually, but at the same time popularised and utilised in case studies throughout the world, thereby demonstrating its potential for managing multiple resource-related challenges in an integrated and coherent way.