2017/11/16 Dresden, Germany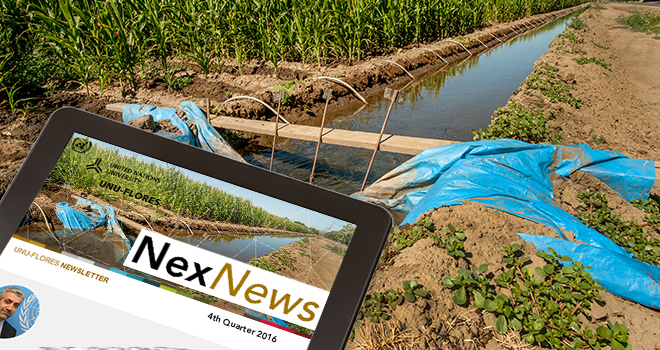 Dear Readers,
Advocating a Nexus Approach to sustainable development has been at the forefront of our activities in the second half of 2017 at UNU-FLORES. From facilitating rigorous debates at World Water Week 2017 and COP 13 of the UNCCD on sustainable resource management to TEDxDresden and UN Day Dresden 2017, we have enjoyed numerous stimulating exchanges with our local, regional, and international communities.
We have also seen important developments within our own walls over the past few months. We look forward to a second term under the leadership of the recently reappointed Dr David Malone as UNU Rector. And with both great pride and sorrow, we take leave from UNU-FLORES Founding Director Reza Ardakanian after his confirmation as Minister for Energy in Iran.
As our fifth year comes to a close, we would like to thank you for following our work in 2017, and we look forward to many engaging interactions in the new year. I wish you and your family a happy holiday season and invite you to visit us on Twitter, Facebook, and our website for regular updates on UNU-FLORES research, events, announcements, and vacancies.
Best regards,
Kai Schwärzel
Officer-in-Charge, UNU-FLORES