2017/11/26 Amsterdam, The Netherlands
Unsteady water supply has a strong bearing on worsening flooding and increasing land degradation. More proactive endeavours to make real breakthroughs for a safe, clean, and sustainable water future to address demanding water issues are needed.
At the Case Session of Amsterdam International Water Week (AIWW) 2017, UNU-FLORES's Dr Kai Schwärzel, Head of Soil and Land-Use Management, delivered a keynote speech about the impact of soil and land management on water resources in dryland China. Based on the scientific results and outcomes, Schwärzel presented his research work on balancing green and blue water flows for improving water security in the Loess Plateau Region at the session entitled "Adaptive (Ground) Water Allocation for a Robust Water Supply".
The Amsterdam International Water Week (AIWW) Conference took place from 30 October to 3 November 2017 in Amsterdam, the Netherlands, organised by RAI Amsterdam, Netherlands Water Partnership (NWP), and International Water Conferences (IWC). The AIWW aims to serve as a platform for leaders from government, the private sector, academia, and civil society all over the world to gather and discuss around the theme of 'Water… and nine billion people'.
In his presentation, Schwärzel explained land-use policy and forest transformation in the case of the Loess Plateau region of northwest China, an area affected by soil erosion. Focusing on integrated approaches towards resolving issues of seasonal water shortage and land subsidence, he addressed the effect of sustainable forest management. Integrated approaches can reap multiple benefits such as: minimise vegetation water consumption, enhance infiltration and deep percolation, mitigate soil erosion, and produce additional rural income (e.g., fruits, oil).
Multifunctional Land Use to Manage Nexus of Environmental Resources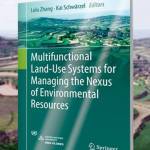 Environmental decline and deteriorating conditions of environmental resources are endangering food and water security globally. UNU-FLORES's publication Multifunctional Land-Use Systems for Managing the Nexus of Environmental Resources provides insight on a Nexus Approach towards sustainable land use through multiple use and integrated management of natural resources.
Following Schwärzel's keynote speech, five different case pitches about freshwater supply were discussed in a panel discussion. The discussion underlined that subsurface water storage can act as a bridge between water demand and supply over space and time. Ensuring integrated environmental resource management could be a good alternative not only for creating a circular and resilient water environment in high-density living areas, but also to support sufficient water supply.