2017/09/28 Dresden, Germany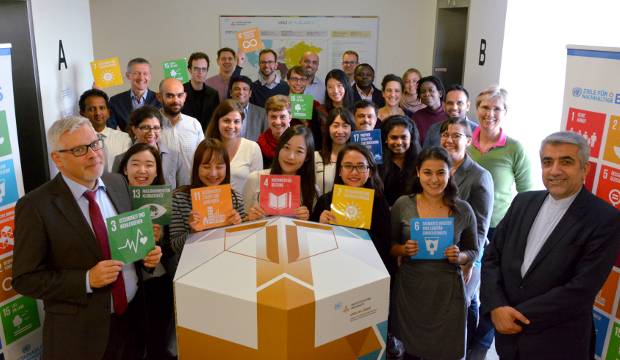 On 25 September UNU-FLORES welcomed Mr Uwe Gaul, State Secretary of the Saxon State Ministry for Higher Education, Research and the Arts (SMWK) to its premises.
Joined by Ms Ariane Greubel from SMWK, Mr Gaul was introduced to UNU-FLORES's current projects and what is in the pipeline. This was the German politician's first visit to the premises.
Earlier this year he had opened the Dresden Nexus Conference 2017 co-organised by UNU-FLORES, the Technische Universität Dresden (TU Dresden), and the Leibniz Institute for Ecological Urban and Regional Development (IOER) with a keynote speech at the Deutsches Hygiene-Museum.
During his visit to the Institute Monday afternoon, Mr Gaul learnt more about UNU-FLORES's institutional structure and during the tour of the location, met with all staff, interns, as well as PhD researchers at UNU-FLORES.
On the occasion of the anniversary of the United Nations Sustainable Development Goals (SDGs), a group photo was organised with Mr Gaul and all present as part of the global #Act4SDGs campaign.
When spoken to, Mr Gaul expressed that SDG 3 (Good health) is fundamental for the individual. He highlighted the role of science and research to support efforts in guaranteeing good health for all.