2019/05/13 Dresden, Germany
By Atiqah Fairuz Salleh, Communications and Advocacy
"In the long term, social and environmental issues become financial issues."
This is a quote from Lars Sørensen of Novo Nordisk, the No. 1 Chief Executive Officer (CEO) on Harvard Business Review's 2015 ranking of the top 100 performing CEOs in the world. For UNU-FLORES Director Prof. Edeltraud Guenther it nicely sums up her presentation at the TEDxDresdenSalon event entitled "Sustainable Business: Competitive Advantage or Idealism?"
Prof. Guenther opened the event with a look at the relationship between the economy and the Sustainable Development Goals (SDGs), asking if they represent a competitive advantage or rather idealism, from a scientific perspective. Presenting the theory and empirical evidence from research as well as the policy view through the UN's SDGs, she made the case for how the SDGs can add value to the economy. The SDGs encourage inter alia the development of scenarios and draw attention to adverse effects; applying long-term thinking, they can act as drivers for business models.
Complementing the scientific input, the TEDxDresden team also invited Dr Nico Herzberg from SAP Dresden to share the view from the private sector. Driven to help the world run better and improve people's lives, Dr Herzberg demonstrated how SAP walks the talk through their internal initiatives. For example, when it comes to the environment, SAP aims to become carbon neutral by 2025.
Organised by the TEDxDresden team, the event gathered around 30 participants on 25 March 2019 at Impact Hub Dresden to discuss sustainability in business and its real benefits. Participants were mostly sustainability enthusiasts from different backgrounds from academia, major corporations, start-ups, and non-governmental organisations to private individuals. Through interactive exchange, they shared the biggest hurdles in their day-to-day operations when it comes to sustainability.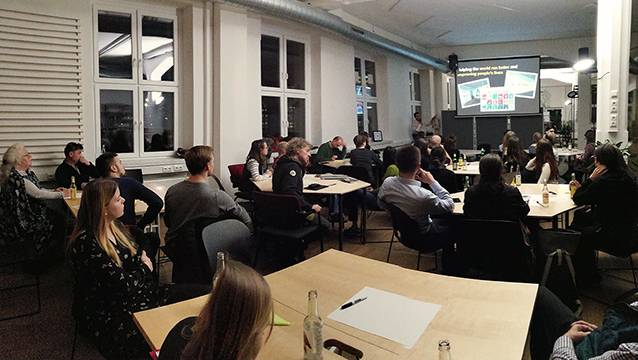 Prof. Guenther's and Dr Herzberg's impulse statements inspired further discussions on three questions: What have you already done in your (professional) life for more sustainability? If money and time did not matter, what would you do for more social and environmental sustainability? What is in your way?
In a World Café format, participants, together with the invited experts, worked in small groups to answer these questions based on their varied experiences. After learning the potential from business and science, engaging with the three questions in small groups brought to the fore many best practices that could be learned across different sectors (e.g., from start-ups).
In an ideal world where, one is not strapped for money or time, participants raised many creative ideas, revealing the high level of intrinsic motivation in the room to act for sustainability in their daily business. Participants highlighted price and competition factors as well as legislation as the biggest obstacles to achieve sustainable business.
The results from this year's first TEDxDresden Salon event can be found here and feed into the planning of Startup Safari Dresden, an event locally organised by Impact Hub Dresden, taking place 13–14 May 2019.
TEDxSalon events are interactive events organised in the lead-up to the main TEDx conference, which takes place on 25 August in the Kulturpalast Dresden with the theme "Heart and Mind" this year. The TEDxDresden Salon events this year – in line with the theme "Dresden, what counts" – aim to bring the local community together to discuss what is important to us in and for Dresden, how we can shape a better life and living together here, and what inspires us in this city.