2017/05/25 Dresden, Germany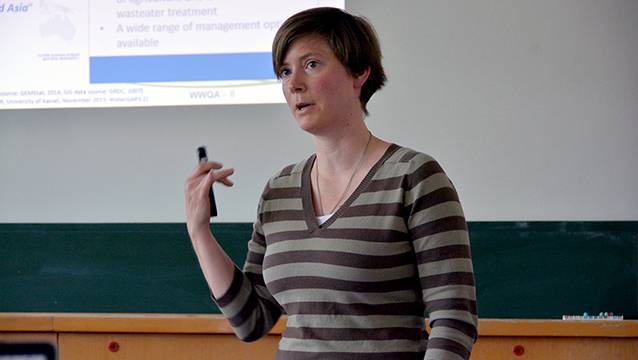 Reporting by Amélie Steu, Intern, Communications & Advocacy Unit
With various initiatives targeted at restoring good water quality and quantity worldwide, it is crucial to occasionally take stock of such developments and seek to identify and eventually address the challenges ahead. During her lecture about "Tackling Key Challenges to Global Water Sustainability at the Center for Advanced Water Research", Dr Mareike Braeckevelt gave a clear introduction of the CAWR's water-related research topics, concerning mainly water quality, water quantity, urban water system, societal and climate change, and water governance.
The Center for Advanced Water Research (CAWR) is an initiative resulting from the collaboration between the Helmholtz Center for Environmental Research – UFZ and the Technische Universität Dresden (TU Dresden). Fifty-two professorships work together to manage three main areas: education and training (Master and PhD programmes, e-learning, etc), theoretical, applied, national and international research, and finally transfer and implementation of research work at national and international levels through partnerships with GIZ, KfW, UNESCO's International Hydrological Programme (IHP), CIPSEM-UNEP, UNU-FLORES, and Global Water Partnership (GWP), for instance.
More precisely, the CAWR tackles five key challenges: antibiotic resistance in aquatic systems, data and information scarcity, water quality (World Water Quality Assessment), Urban Water Resources Management (UWRM), and Resilient Complex Water Network. Dr Braeckevelt highlighted three of these key challenges.
Firstly, the CAWR and four other organisations (UN Environment, UN Water, UFZ, and CESR) work together on the World Water Quality Assessment. This is a methodology that gives a framework to global assessments. They undertook a pre-study that focuses on lakes and river reaches, which showed that around one-seventh of all river reaches in Latin America, Africa, and Asia are affected by severe organic pollution. This pollution is due to low wastewater treatments, intensification of agriculture, population growth, and economic development. This pollution leads to major problems for the local human population with respect to health and food, which need to be solved through technical and policy measures.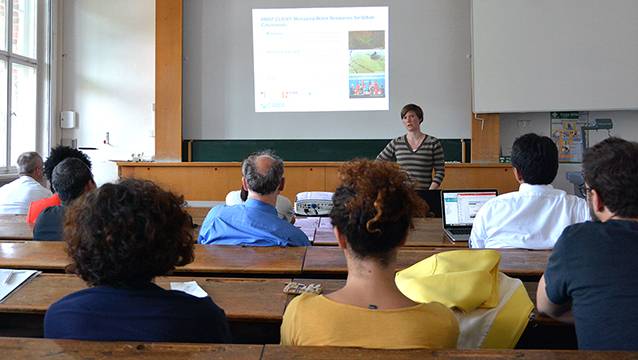 Secondly, concerning Urban Water Resources Management (UWRM), two projects are currently ongoing. The first one is the "Urban Observatory Dresden", a study of the interactions between interlinked compartments of the urban water cycle  in order to improve UWRM with integrated data transmission and management for precipitation, discharge, and water quality. The second one is the "Water Resources for Urban Catchments" project, in collaboration with the Federal Ministry of Education and Research (BMBF). It aims at developing sanitary and environmental engineering system solutions for sustainable water quality improvement in Lake Chao, China.
Finally, as regards to the Resilient Complex Water Network, the CAWR works closely with the University of Florida and Purdue University (USA). They created an International Research Training group comprised of five PhD scholars that work on collaborative topics, and share joint data and tools in view of benefiting each project. This key challenge tackles structure and function of natural and anthropogenic networks in the water cycle and other complex hydro-systems. The goal is to analyse various complex dynamic networks for the understanding of performance, flexibility and resilience. In addition, the CAWR and the two American Universities annually organise International Synthesis Summer Schools that aim at bringing together international young scientists from different disciplines. The next one will take place at TU Dresden, 4–18 August 2017, and will tackle "Network Functional Dynamics – Technological, Human & Ecological Dimensions".
The lecture concluded with a question on CAWR's experience regarding emergency processes that could be useful in disaster management, and another that expressed the wish of CAWR to receive more applications from social scientists in view of collaborating with disciplines other than the natural sciences.
Taking place on 22 May 2017 at TU Dresden, this lecture was part of the Nexus Seminar Series. Nexus Seminar No. 21 will take place at UNU-FLORES, in the Conference Room (9th floor). UNU-FLORES researchers Sabrina Kirschke will give a lecture on "The Role of Complexity in Addressing the Water Quality Challenge".