2015/03/27 Dresden, Germany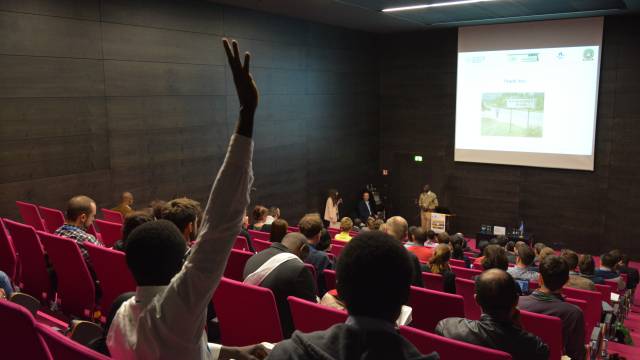 The key theme of Day 3 at DNC2015 focused on strategies to address challenges for sustainable resource management posed by population growth. Participants looked in particular at how the management of environmental resources guided by a nexus approach can support the sustainable and economically feasible intensification of biomass production necessary to cope with growing population. The last day of the conference commenced with keynote speeches by Michael Herrmann, Adviser on Population and Economics, and Manager of the Innovation Fund at the United Nations Population Fund (UNFPA), and Lбszlу Miklуs, who is currently head of the UNESCO-Chair for sustainable development and ecological awareness at the Technical University in Zvolen (Slovakia).
Michael Herrmann's keynote set forth three policy priorities – social, economic and environment – for fostering sustainable development, with the environment as the basis for sustained social progress and economic growth. In addressing the root of development, Herrmann underscored the needs of people as the primary driver. Thus, demographic data and projections are important aspects to consider. "The challenge of this century will be meeting the needs of the people without destroying the environment." Herrmann acknowledged that the Nexus Approach will not only help with minimizing the impacts of population growth on the environment but also with achieving the SDGs; however, he cautioned, "Development goals should not be misunderstood as development strategies."
László Miklós challenged participants in his keynote entitled "The Integrated Management of the Land Resources: Institutional Tools" by observing that the idea of an integrated approach seems to be a trend. It has been used and promoted for many years now, but how many really understand what it means? He also critiqued widespread sectorial-thinking, calling for more integrated, harmonized decisions and procedures across all sectors in order to ensure sustainable management of environmental resources.
Discussions relating to population growth and its impact on environmental resources were expanded upon during the seven parallel sessions that took place throughout Day 3 of DNC2015. Topics of the sessions included the role of soil functions for food production, the environmental footprint of food losses and waste, as well as the water quality dimension of the water-soil-waste nexus.
The afternoon plenary session will consist of a panel discussion moderated by Danka Thalmeinerova, Senior Knowledge Management Officer at the Global Water Partnership Organization, and former water and environmental expert for the Slovak Ministry of Environment. Following the panel discussion, a concluding talk will be given by Timothy O. Williams, Director for Africa at the International Water Management Institute (IWMI), and finally, a conference wrap-up talk by Rattan Lal, Distinguished University Professor of Soil Science and Director of the Carbon Mgt. & Sequestration Center at the Ohio State University, Columbus.