2017/11/15 Dresden, Germany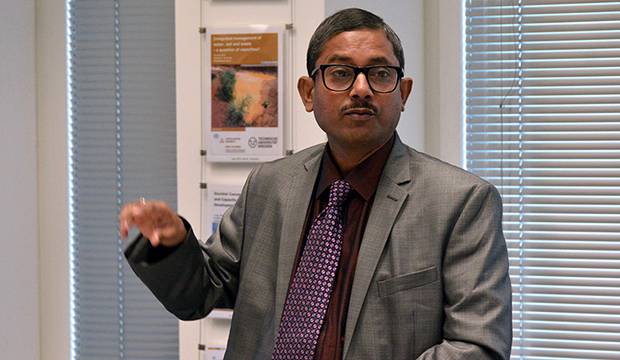 Reporting by Chandrashekar Kshourad, Intern, Waste Management Unit
The second largest populated country in the world, India faces various hindrances to its development. Solid Waste Management is of critical concern and needs attention. Whereas many developed countries are searching for ready-made sustainable waste management solutions, India has created institutions to take on the big challenge of formal research on the topic.
These developments were explained very well in Dr Sunil Kumar's presentation on "Science and Technology: Municipal Solid Waste Management in India" on 7 November 2017 at UNU-FLORES. Dr Kumar is a Senior Scientist at CSIR-National Environmental Engineering Research Institute (CSIR-NEERI), India. As the largest research and development organisation in India, the Council of Scientific and Industrial Research (CSIR) is at the helm of the nation's research initiatives.
Dr Kumar began by elucidating the growth of CSIR since its establishment in the year 1942. Narrowing down to his role as a senior scientist in the waste management section of NEERI, Dr Kumar explained that there is still a major milestone for India to achieve in order to progress from being a developing to a developed country.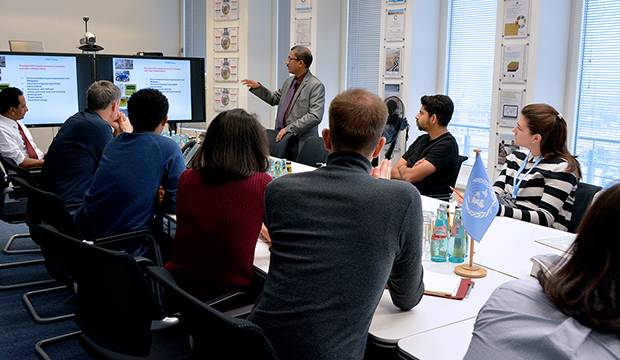 The current waste management practice in India involves collecting waste from sources through a community collective bin system, after which it gets transported to a low-lying landfill system with intermediate processing of Municipal Solid Waste (MSW). The open dumping practice is leading to various problems like pollution and health hazards. Both surface and groundwater are affected by this; in fact, groundwater is in a critical state. Current procedures are not ideal, hence, the solid waste management crisis.
As pointed out in the presentation, statistics show that in 2001 India generated 46 million tonnes of waste and by 2048 this number is predicted to reach an estimate of 125 million tonnes, making India the largest waste contributor of the world.
According to Dr Kumar, the major problems affecting solid waste management are unscientific treatment, improper collection of waste, and ethical problems. This in turn leads to hazards like environmental degradation, water pollution, soil pollution, and air pollution.
Explaining the options and challenges for India to battle its waste management crisis, Dr Kumar talked about technologies pursued in developed countries such as bio-composting and incineration – converting waste to energy. Recycling should be followed with parallel emphasis on source segregation and quality-cost ratio control. Finally, he also brought up optimum methane capturing as one of the possible solutions.
"When considering solutions, no matter how advanced the solution is, unless and until it is applied to the ground zero level, it will not be effective."
– Dr Sunil Kumar
Concluding his presentation, Dr Kumar shared several recommendations. In essence, the current philosophy calls for sustainable, cost-effective (and risk-based), as well as integrated approaches to better manage risks and recover resources from waste.
He later interacted with the audience and answered queries on the presentation. All in all, Dr Kumar provided an adequate view on various aspects of the Indian economy and its difficulties in overcoming its present challenges. India has come a long way in marking itself in the field of scientific research. It has achieved a lot yet still has more to achieve in terms of finding solutions for both local as well as international problems.