2019/05/15 Dresden, Germany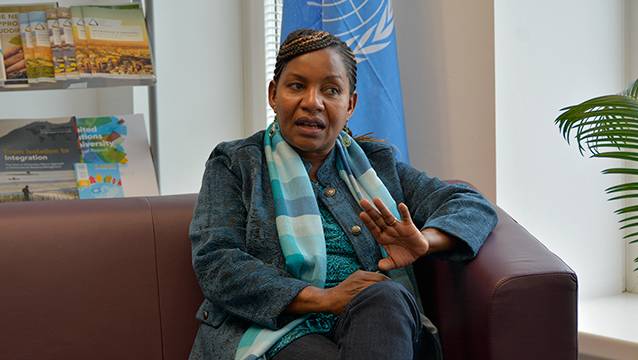 Interview by Atiqah Fairuz Salleh, Communications and Advocacy
At the heart of our work on the Nexus Approach is not just the study of how best to manage our environmental resources from the academic perspective, but also looking at how best to implement it from the practitioner's point of view. In an exclusive interview, Prof. Bancy Mati, a champion of water resources management, shares her insights as both a full professor and registered professional engineer. She is also a member of the UNU-FLORES Advisory Committee, which convenes next month.
When we talk about the sustainable management of environmental resources, from your experience, what are some of the emerging issues that need to be tackled?
Firstly, desertification. When we deal with desertification, we do not want to introduce vegetation just for the sake of vegetation. For example, in the case of Kenya, in the 1970s, a plant called prosopsis uniflora was brought in to control desertification. True enough, it was a case of vegetation providing ground cover. But it was a very negative vegetation that posed serious health threats to people and livestock. Because it was difficult to uproot, farmers have had to abandon their farms. So, when we turn to vegetation for controlling desertification, we must be mindful of which species would help.
Secondly, floods are underestimated. With climate change, they are becoming more common. I have done this exercise several times where I have a room full of stakeholders, but not one works on flood management. I think the next frontier for us is flood management. When we look at Europe, Amsterdam is beneath sea level. They are not flooding but are already preparing by raising their dykes. The kind of floods that cause havoc are so easily manageable by science. But I do not think we have done enough. In Kenya, we have droughts, and when the rains come, it floods. When the floods are gone, then come the diseases.
You brought up stakeholders – involving and trying to engage them. How often do you meet them?
Yes, we do it all the time. Every month, I have at least one stakeholder meeting depending on the projects. It is the nature of working closer to the people.
You have also, at times, had partners run projects locally and independently and sometimes with very little means. What steps do you take to engage and to empower your partners and stakeholders?
Yes, often with very little means.
I see my service as the facilitator of knowledge transfer. Give me a good idea that you want a thousand people to know. I do not necessarily do the work; others do the work. All I do is to link you up with the relevant people, for example, water users' associations, who trust me. We both should also trust each other, and in between, we can build something. My role is to bring people together – private sector, financing organisations, etc. – and convene a meeting. This need not cost much. Provide some lunch; and that could be the start of something very exciting.
If you were to name one single most important ingredient for cultivating good partnership between people from different disciplines, what would that be?
I do not think there is that one answer to everything. But if anything, that would be the ability to try to understand everyone, including social scientists, as well as, as many dimensions to an issue such as gender. This enables us to lead from the known, not out of ignorance.
At the same time, it is also important to set boundaries on what one would call one's niche area and to ensure that one's collaborations serve that purpose. Partnering across disciplines does not mean accepting everything thrown at you. The minute you start diverting too far, you lose focus.
For me, the heart of the puzzle will stand for water. When it comes to water-related issues, I want to know about the rest of the pieces, insofar as they complete my puzzle. You might notice, I am enthusiastic about solar technologies; and that's because it is bringing water to the farmer, to the people. So, it is still relevant to my niche.
Knowing where to be relevant and to remain around it is key. People associate you with your niche.
Increasingly, there is a trend to involve the public more in data gathering, also known as 'citizen science'. What do you think about community involvement in environmental projects?
I think the time is now. Before the coming of the mobile phone and so on, data collection was literally analogue. Today, information flow has been revolutionised. With the ease of their mobile phones, when farmers see an insect or whatever the object of study is, they are able to, for example, photograph it and the photo is transmitted to the scientist who then processes the data or information. With the latest technological advancement, you can literally get data in real-time from the public even though they may not necessarily be educated. This expands the potential of what we can do through our projects to help the community. You would be surprised, you will find that a lot of the best information is with the people.
You are a source of inspiration to many. We are curious – who is your source of inspiration? What drives you?
My source of inspiration are the people on the ground. When I see change in the lives of farmers or water users, I feel inspired. I find it motivating to see successes of water resources management despite difficult conditions. On the other hand, when I see failure, it gives me the next idea of what needs to be done. When I was working with rice farmers, each time I met them, they got so excited. My excitement comes from seeing change among the local communities. I have a soft spot for them, especially those in the rural areas.