2014/12/16
UNU-FLORES in cooperation with UNU-INRA, TU Dresden and the World Agroforestry Centre (ICRAF) organized a workshop on 18-19 November 2014 in Nairobi, Kenya on the Joint Research Project (JRP4) "Soil Functioning and Food Production". The workshop, entitled "Potential for 'Non-Food' Bioenergy Crops as Part of Multi-Functional Land-use Systems in Sub-Saharan Africa", was attended by experts from Botswana, Ethiopia, Ghana, Kenya, Malawi, Mauritius, Mozambique, Namibia and Nigeria as well as FAO, ICRAF, TU Dresden, UNDP and UNEP.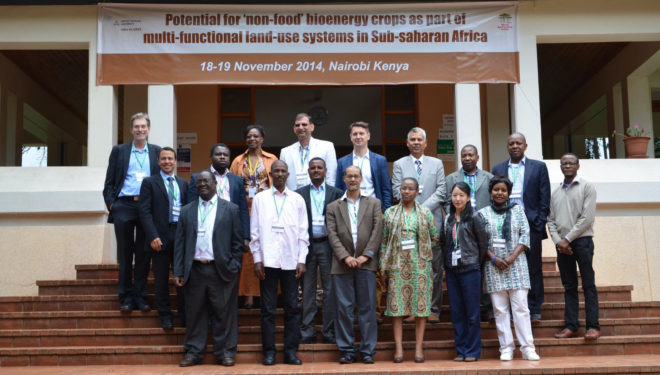 The workshop concluded that there is an increasing shortage of food and bioenergy provoking further problems, such as land degradation and deforestation. Thus, it was proposed to integrate non-food competing bioenergy systems across the landscape on degraded or contaminated soils and on soils with medium to low productivity as an option to solve food and energy issues in SSA.
The initiative for this project first emerged from discussions during a regional workshop organized by UNU-FLORES in Maputo, Mozambique in May 2013, which involved participants from 19 institutions representing 13 different African countries.  Based on results of an initial mapping study, a draft research concept was developed.  It was elaborated based on comments and discussions received, involving further potential partners interested in the topic, and provided the conceptual basis of this workshop.