2018/01/21 Dresden, Germany
A think piece by Parvathy Chandrasekhar, Soil and Land-Use Management Unit
The Sustainable Development Goals (SDGs) debuted in 2015, the same year as the International Year of Soils. This gave soil scientists an extraordinary opportunity to raise awareness on the fundamental role of soils in achieving multiple SDGs and make valuable contributions to existing challenges.
Global developments such as increase in population, decrease in availability of resources (e.g., water, land, nutrients), and climate change restrict our capacity to increase food production while sustainably managing our natural resources. Furthermore, issues such as land degradation, soil erosion, and loss of organic matter are deeply intertwined with decline in environmental quality and threaten the livelihoods of millions of people around the world (Bouma et al., 2017). In this context, the SDGs provide clear guidelines and targets to promote sustainable food production under the ubiquitous theme of eradicating poverty.
Agriculture, and consequently, soils are at the heart of the SDGs and are fundamental towards achieving them.
SDG 2 (Zero hunger) is the most straightforward link that connects soils, food production, and healthy living. Nonetheless, soils fulfil a large number of functions and ecosystem services (EC, 2006) that explicitly bind them with other goals such as SDG 1 (No poverty), SDG 3 (Good health and well-being), SDG 6 (Clean water and sanitation), SDG 13 (Climate action), and SDG 15 (Life on land). It has been agreed upon that cross-sector integrated work is imperative towards achieving the SDGs implying that soils also have an indirect presence in achieving the remaining goals.
The unique role of soils in influencing the management and use of other resources such as water, land, nutrients, and biodiversity validates the efforts of the scientific community towards integrated resource management.
The spotlight on sustainable practices for preserving life on earth has advocated positive influence on resource recovery from waste and ultimately, in viewing 'waste' as a resource (Hettiarachchi and Ardakanian, 2016). As a result, the Water-Soil-Waste (WSW) Nexus "examines the interrelatedness and interdependencies of environmental resources and their transitions and fluxes across spatial scales and between compartments" (Avellán et al., 2017). Production of biomass (food, timber, fuel) would only benefit from a thorough understanding of the processes and interactions within the nexus as well as the tools to govern it.
The SDGs lay the groundwork in our quest to achieve a healthy and sustainable future for our planet. The exclusive position of soils as a medium that links the use and management of other natural resources makes it useful in the comprehensive assessment of ecosystems that enables relevant actors and stakeholders (e.g., scientists, economists, policymakers) to connect different SDGs and work towards a common goal (Keesstra et al., 2016).
We are at a point where all the calls and pleas for action to mitigate the consequences of environmental degradation and climate change are just not sufficient anymore. It is time that we look over the fence towards other disciplines to reach out and form genuine collaborations not only with other scientists but with policymakers and citizens if we want to look for a healthy, happy, and sustainable future. Finally, as Franklin D. Roosevelt precisely put it, "The nation that destroys its soil destroys itself."
As part of the tuuwi Environmental Lecture Series "7 Billion Chances – Sustainable Development Goals Transforming Our World?" co-organised by the Student Environmental Initiative (tuuwi) of Technische Universität Dresden (TU Dresden) and researchers of the Joint PhD Programme of UNU-FLORES and TU Dresden, Chandrasekhar delivered a lecture on 18 January at TU Dresden addressing the role of soils in achieving the SDGs. The session ended with a lively Q&A discussion. 
References
Avellán, T., Roidt, M., Emmer, A., von Koerber, J., Schneider, P., & Raber, W. 2017. "Making the Water–Soil–Waste Nexus Work: Framing the Boundaries of Resource Flows." Sustainability, 9(10):1881. https://doi.org/10.3390/su9101881
Bouma, J., Keesstra, S., & Cerdà, A. 2017. "The importance of Soil Science to understand and remediate Land Degradation and Desertification processes." EGU General Assembly 2017, 19(EGU2017-16112-3).
European Commission (EC). 2006. Communication from the Commission to the Council, the European parliament, the European Economic and Social Commitee and the Commitee of the Regions, Thematic Strategy for Soil protection (No. COM 231 Final). Brussels.
Hettiarachchi, H., & Ardakanian, R. 2016. Environmental Resource Management and the Nexus Approach: Managing Water, Soil, and Waste in the Context of Global Change. Cham: Springer International Publishing.
Keesstra, S. D., Bouma, J., Wallinga, J., Tittonell, P., Smith, P., Cerdà, A., … Fresco, L. O. 2016. "The significance of soils and soil science towards realization of the United Nations Sustainable Development Goals." SOIL, 2(2):111–128. https://doi.org/10.5194/soil-2-111-2016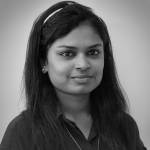 Parvathy Chandrasekhar is a PhD Researcher in the Soil and Land-Use Management Unit at UNU-FLORES. Her research at UNU-FLORES focuses on model development for management induced changes in soil hydraulic properties. Read More >>