2018/04/24 Dresden, Germany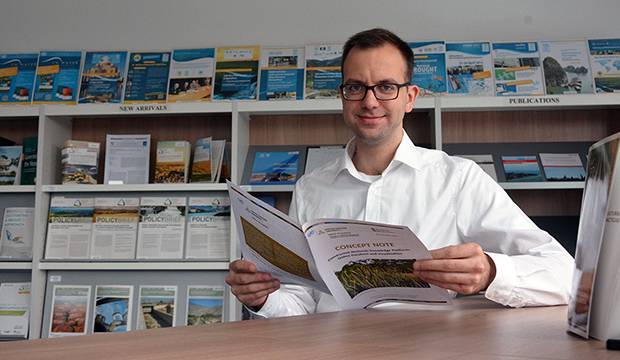 UNU-FLORES offers a rigorous internship programme giving students and recent graduates the opportunity to develop new skills and knowledge in a constructive setting for the practical application of their capacities acquired during their studies. Through hands-on experience, interns work in a variety of areas from academic research, event organisation, communications and advocacy, and institutional development and administration. In this series, we feature the young brilliant minds that have played a big part in many of our activities and events. In this interview, we talked to Kurt Brüggemann from Germany, who works with the Water Resources Management unit.
Tell us about yourself. What is your motivation to do an internship with UNU-FLORES?
I was a civil engineer close to completing a Master degree in Hydrology and Water Management at TU Dresden. During my studies, I gained close to two years of work experience in international development. In India and Vietnam, I saw how manmade problems such as urban flooding and water pollution can be overcome through implementing nature-based solutions locally. I am convinced that these measures help in achieving the Sustainable Development Goals; e.g., SDG 6 aiming at 'Clean Water and Sanitation for All'.
Under the collaboration of TU Dresden and UNU-FLORES, I got to know about a joint project on an online platform about constructed wetlands, which are a sustainable option for improving water quality. I wanted to work on a global level to enable local action. Eager to contribute to improved data availability on wastewater treatment works to facilitate the joint action of a broad range of stakeholders, I applied for the internship with UNU-FLORES.
What are some of your day-to-day responsibilities? What types of projects do you work on?
There is no day like the other. 'You gotta do what you gotta do' – in other words: I am doing everything to make this project a success. Be it conceptualising the project, identifying stakeholders, designing a global questionnaire for potential users, providing it in four languages and distributing it to more than 270 experts, supporting PR activities such as the design of the accompanying social media campaign or the presentation of the project at the Open House event at UN Day, collecting data from various sources, or coordinating between the team members.
Of course, I had additional tasks that were related to the internal organisation of the team and the Institute. The further you progress with your internship, the more often you get the opportunity to take over responsibility for your new colleagues and introduce them to internal procedures and to supervise tasks.
What's the highlight of your internship?
Definitely for me, it's the global questionnaire that I led in developing. We solicited input from potential users on their 'wish list' for the online platform on constructed wetlands. I received responses from more than 150 experts from all over the world. Wastewater professionals from more than 60 countries covering all continents (besides Antarctica) took part in the survey.
During the distribution of the questionnaire, I was excited to look up the current survey statistics every day, to see the number of valuable remarks about what elements and functions our platform should include grow.
Of course, this amazing achievement would not have been possible without my wonderful colleagues at UNU-FLORES. I have strongly benefitted from the expertise and the network of the Water Resources Management and the Waste Management Units as well as the Communications and Advocacy team.
What kind of skills do you need to be successful at your internship?
To achieve the best results, you need to be open and patient. Sometimes the task you receive looks overwhelming at first sight. If you stay cool, take the challenge and act as a sponge while you receive valuable comments of your inspiring co-workers, you will find that you can make it work. You may also choose to apply the Plan-Do-Check-Act principle to your work to ensure a continual improvement process.
What are some words of wisdom you'd give to anyone aspiring to be in your position?
This question implies that I have already gained some wisdom to give; still I believe that learning is a lifelong process. Sometimes the way is the goal, so you just need to jump into the ocean of knowledge and learn how to swim!