2019/10/30 Dresden, Germany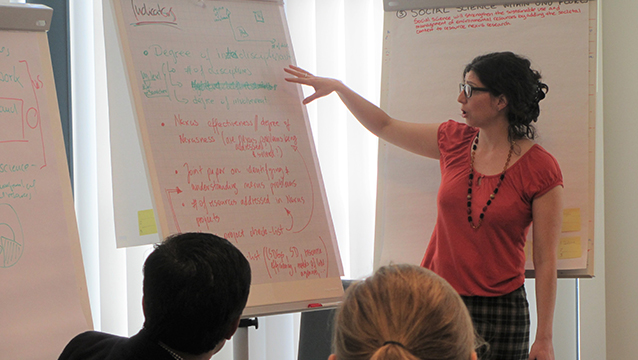 By Dominique Schmachtel, Water Resources Management
When defining a holistic problem statement and solution options for a transdisciplinary research project, interdisciplinary research teams are often confronted with challenges in coordinating and communicating across disciplines (Lang et al. 2012; MacLeod 2018). These obstacles need to be taken into consideration when project frameworks are being defined and designed, to ensure valuable project outcomes for all participants (MacLeod 2018).
In sustainability sciences, the transdisciplinary research approach has been receiving growing attention in recent decades (Schmidt et al. 2013). To design guidelines for accomplishing transdisciplinarity, ideal-typical conceptions were developed, claiming that transdisciplinary research should focus "on societally relevant problems", create "knowledge that is solution-oriented, socially robust […] and transferable to both the scientific and societal practice" (Lang et al. 2012, p.27), and links both the natural and social sciences. Moreover, it aims to generate and implement knowledge, according to the needs and interests of decision makers and civil society, and hence, makes the involvement of stakeholders inherent (Schmidt et al. 2013; Siebenhüner 2018).
However, before involving stakeholders and to tackle real-world problems, researchers need to sit together to find an integrative way to break down communication barriers between scientists of different disciplines as well as among scientists and non-scientists. A mutual communication/terminology baseline has to be created for co-designing projects and to achieve progress towards transdisciplinary research.
Creating knowledge exchange
At the United Nations University Institute for Integrated Management of Material Fluxes and of Resources (UNU-FLORES), researchers of different disciplines have worked together in the past years to create a better common ground to carry out transdisciplinary research projects. In a survey conducted internally, stakeholder involvement is found to be seen as an important tool to achieve better research results, raise awareness, and to create an exchange of knowledge, among other objectives. Projects such as SludgeTec or the Safe Use of Wastewater in Agriculture (SUWA) demonstrate case examples of designing and integrating stakeholder involvement to co-design sustainable target-oriented solution options in environmental sciences. However, challenges in transdisciplinary projects are inevitable.
In a survey conducted to find similarities in the challenges that researchers at UNU-FLORES face as they design and implement stakeholder involvement, results show that both the methodology and the degree of involvement at different project phases are highly variable. The methods used as identified in the survey vary from identifying stakeholders and applying the snowball effect, doing surveys, questionnaires, workshops, and trainings, to doing a stakeholder and social network analysis, which might include all the previous methods mentioned and hence, are barely comparable.
The survey was run among ten researchers working on 10 different projects and contained both qualitative and quantitative questions, partly conducted as expert interviews and partly questionnaires, with identical questions posed to all, respectively. Overall, 8 out of 10 interviewees have (or are planning) stakeholder involvement to a certain degree in recent or current research projects.
Even though varying degrees of stakeholder involvement at different project phases for different approaches were used, a convergence of challenges among the interviewees can be observed.
Besides financial resources, time, and language barriers among others, researchers faced the challenge of agreeing on the way of involving stakeholders, because internal as well as external communication and terminology barriers have to be overcome (see Figure 1).
Hence, first of all, a common language and terminology has to be designed and accepted by all participants and they have to agree on a joint problem definition. As mentioned by a survey respondent, "Stakeholder involvement and transdisciplinarity in sustainable research is important, but the acceptance of a joint definition of a problem has to first be reached."
Because transdisciplinary research projects are complex and a coherent research framework has not yet been established, the design, function, and evaluation of such overarching projects often remain unclear and are often not replicable (Brandt et al. 2013). Moreover, varying methodological and conceptual definitions used among different scientific disciplines, in combination with fragmented guidance from literature and dispersed case examples, pose challenges in defining a mutually agreed problem statement for research teams and can negatively impact the research results (Schmidt et al. 2013; Brandt et al. 2013).
The initial problem statement and project purpose should be well-defined, mutually understood, and accepted by everyone, to reduce the difficulties that arise during further project phases and to not only share information, but also apply the most suitable approach for the project.
However, involving stakeholders entails many more challenges than finding a common ground for communication. The survey underlines that depending on the project purpose, stakeholder involvement can lead to better project outcomes. Researchers at UNU-FLORES have cited examples in which such a process helps overcome thinking in silos, increases the feasibility of implementation by understanding and identifying the needs and interests of the local community, among others.
Positive and application-oriented examples of stakeholder involvement and transdisciplinary research exist, contrary to the often more confusing and contradictory picture painted by literature. Nonetheless, the nature of global problems is complex; this article is not intended to give answers or guidelines of how best to design a transdisciplinary research, rather to mobilise those who want to achieve mutual learning processes and create better research results. Obstacles should be seriously considered by interdisciplinary research teams that want to work towards true transdisciplinarity.
---
References
Brandt, Patric, Anna Ernst, Fabienne Gralla, Christopher Luederitz, Daniel J. Lang, Jens Newig, Florian Reinert, David J. Abson, and Henrik von Wehrden. 2013. "A Review of Transdisciplinary Research in Sustainability Science." Ecological Economics 92 (August): 1–15. https://doi.org/10.1016/j.ecolecon.2013.04.008. https://doi.org/10.1007/978-3-319-25071-7_13.
Lang, Daniel J., Arnim Wiek, Matthias Bergmann, Michael Stauffacher, Pim Martens, Peter Moll, Mark Swilling, and Christopher J. Thomas. 2012. "Transdisciplinary Research in Sustainability Science: Practice, Principles, and Challenges." Sustainability Science 7 (S1): 25–43. https://doi.org/10.1007/s11625-011-0149-x.
MacLeod, Miles. 2018. "What Makes Interdisciplinarity Difficult? Some Consequences of Domain Specificity in Interdisciplinary Practice." Synthese 195 (2): 697–720. https://doi.org/10.1007/s11229-016-1236-4.
Schmidt, Laura, Domtail S, Patrik Klintenberg, Martin Gruber, Ute Schmiedel, Zimmermann I, and Thomas Falk. 2013. "Transdisciplinary Research and Stakeholder Involvement. A Review of the TFO Approach." Biodiversity & Ecology 5 (December): 195–212. https://doi.org/10.7809/b-e.00275.
Siebenhüner, Bernd. 2018. "Conflicts in Transdisciplinary Research: Reviewing Literature and Analysing a Case of Climate Adaptation in Northwestern Germany." Ecological Economics 154 (December): 117–27. https://doi.org/10.1016/j.ecolecon.2018.07.011.