2020/04/08 Dresden, Germany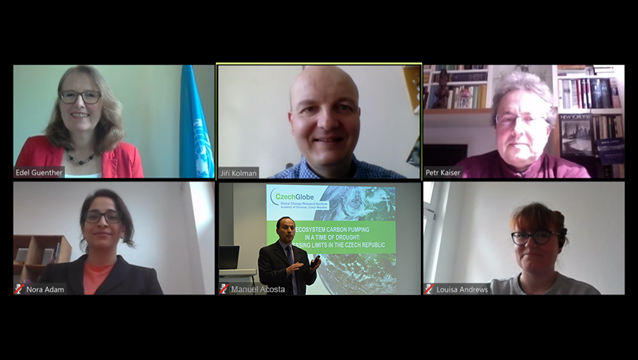 By Ksenia Kuritsyna, Communications and Advocacy
On 31 March Prof. Edeltraud Guenther and Dr Nora Adam (UNU-FLORES) hosted a video conference with Dr Jiří Kolman and Dr Manuel Acosta (Global Change Research Institute, CzechGlobe) and Petr Kaiser (Special Envoy for Science Diplomacy, Czech Ministry of Foreign Affairs) to discuss potential areas of further cooperation. An in-person visit of the Czech delegation to the UNU-FLORES premises had been initially planned, however, in view of the current pandemic, it took an online format via a videocall.
Building the dialogue on previous collaboration based on a signed Cooperation Agreement, the parties started with featuring current projects and opportunities. Among the UNU-FLORES projects that were of CzechGlobe's interest included the framework for organisational decision-making process in two important projects: Water Reuse for Smart Cities – SMART-Domain (EIG-Japan) and ICE-CEEC. Future collaboration would also include the Visiting Scholars Programme at UNU-FLORES, considering connections in research areas. Among the research foci identified are transition in mining, climate change, and environmental issues, and particularly within the context of the Joint PhD Programme at UNU-FLORES. Establishing a stipend for supporting PhD research in the area of integrated management of environmental resources within the PhD programme at UNU-FLORES was also discussed.
The partnership between CzechGlobe and UNU-FLORES is expected to become a crucial component of wider Czech-German cooperation in environmental projects. Areas explored include:
cooperation in the Sub-Saharan African region,
joint measures in climate change adaptation (e.g., carbon modelling and synthesis of case studies for decision-making on climate adaptation), and
cooperation in water management and pollution under climate change adaptation in Sub-Saharan Africa and other regions.
In further discussions, the parties agreed on designing an Action Plan as a next step, which would focus on the international, regional, and municipal levels of cooperation and provide an avenue for concrete steps for project realisation.