2020/07/17 Dresden, Germany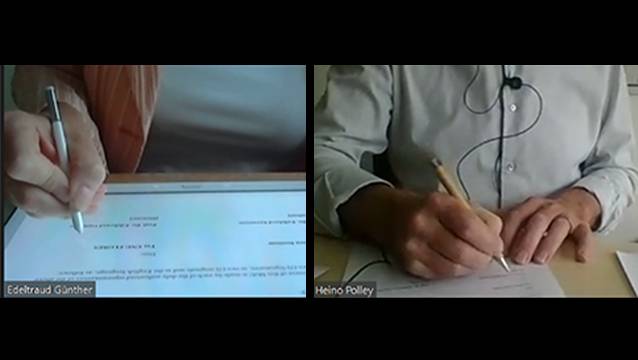 By Ying Liu
The Johann Heinrich von Thünen Institute (Federal Research Institute for Rural Areas, Forestry and Fisheries) and UNU-FLORES solidified collaboration through signing a Memorandum of Understanding (MoU) on 8 July 2020 via a video conference.
The MoU aims to enhance the visibility of both institutes at the science-policy interface in the areas of forestry and agriculture in Europe and throughout the world. Integrated with research topics of Forestry and Timber Sciences, Agricultural Sciences, and Fishery Sciences, this mutually beneficial collaboration seeks to strengthen science communication, academic exchange, and teamwork to facilitate joint projects between the two institutions.
The ceremony commenced with a formal introduction of the initiators and signees: Prof. Edeltraud Guenther (Director of UNU-FLORES), Dr Kai Schwaerzel (Head of the Programme Co-ordinating Center of the International Forests Cooperation Programme in Thünen Institute), and Dr Heino Polley (Deputy Director of the Thünen Institute of Forest Ecology).
"The MoU between UNU-FLORES and the Thuenen Institute of Forest Ecosystems will help us – among others – to strengthen our activities at the science-policy interface and to further develop effective strategies for science communication."
– Dr Heino Polley, Thünen Institute
Members of the Thünen Institute highlighted that this cooperation, which will set a precedent for future collaborations, is a crucial stepping stone for stronger relations with TU Dresden – the strategic partner of UNU-FLORES. Furthermore, establishing the joint supervision of PhD candidates is extremely significant to the provision and continuous improvement of quality education – a mission championed by both UNU-FLORES and the Thünen Institute.
Prof. Guenther expressed her appreciation for Dr Schwaerzel's initiation of this formal cooperation, and for providing UNU-FLORES with an avenue to maintain a strong connection with the Institute's alumni. Dr Schwaerzel was formerly a valued researcher at UNU-FLORES and also served as Officer-in-Charge in the lead-up to Prof. Guenther's directorship at the Institute.
"Indeed, not only is this new cooperation an excellent avenue to explore research synergies, but also to maintain our link with Dr Schwaerzel and further contribute to the German science network whose important work is visible across a myriad of local, national, regional, and global platforms."
– Prof. Edeltraud Guenther, UNU-FLORES
For both institutes, this alliance means a promising development in synergising expertise and knowledge and exploring both regional and international opportunities for collaboration.