2019/07/12 Dresden, Germany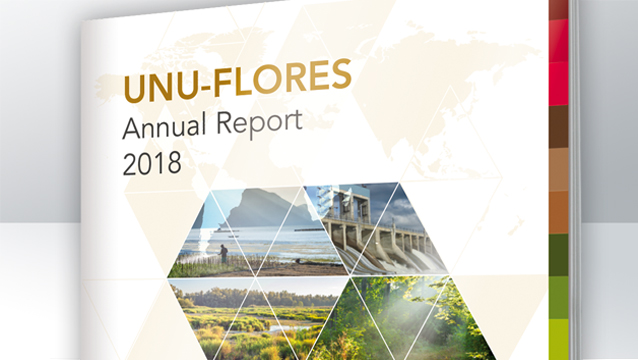 A Message from the Director
It is with great pleasure that I present to you the 2018 Annual Report of UNU-FLORES.
I first got to know the mission of the Institute through my co-founder of PRISMA – Centre for Sustainability Assessment and Policy at the Technische Universität Dresden (TU Dresden), former director Prof. Reza Ardakanian. I was no stranger to the urgent necessity for political and economic reform in the management of environmental resources through my research on sustainability management and environmental accounting. From the start, however, UNU-FLORES's approach to advancing this crucial change through the strategic combination of nexus-oriented scholarship, capacity development, and direct policy engagement intrigued me.
As its Director, now every day I have the honour to be part of the important scientific work the Institute is
doing to support the United Nations and its Member States in addressing some of their greatest challenges to sustainable development. The urgent need for sustainable solutions for recovering and reusing resources and for adapting to climate change are two challenges we have taken on in 2018. We will be reporting in depth on these topics in this year's annual report.
To tackle these challenges through a Nexus Approach, the Institute conducts projects and programmes ranging from theoretical research to policy reform. In the coming pages, you can learn about our work to identify resource management strategies, improve availability and accessibility of tools and data for implementing strategies, share this research with other United Nations entities, and provide policy recommendations and consultations to UN Member States.
One of the most rewarding parts of joining the Institute has been learning the inspirational stories of the people working here to advance sustainable development in their home communities. Now you can read about these personal journeys and how the Institute is fostering their efforts.
Thanks to the hard work of my new colleagues and the excellent leadership of former director Prof. Reza
Ardakanian and interim Officer-in-Charge Dr Kai Schwärzel, UNU-FLORES is conducting many promising
research projects and programmes, such as the PhD programme and the Dresden Nexus Conference. I look forward to using these blocks to continue to build the Institute's profile.
Since taking on my new role – a particularly exciting venture for me – I have had the rare opportunity of
getting an insider perspective on the important and impactful work the Institute is doing. After reading this report, I hope you, too, will be as impressed with the accomplishments and enthusiastic about the potential of the Institute as I am!
Warm regards,
Edeltraud Guenther
Director, UNU-FLORES
Click here to download the UNU-FLORES's Annual Report 2018.