2020/05/06 Dresden, Germany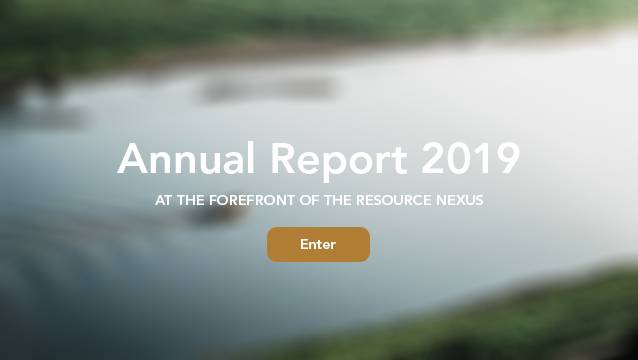 A Message from the Director
I am delighted to introduce you to the 2019 UNU-FLORES Annual Report, in its very first iteration as a digital publication. Following my appointment as Director of UNU-FLORES in 2018, I have endeavoured to strengthen management by implementing positive changes to management control systems. These goals were embraced with collaborative input from members of both staff and the student body at a strategic retreat early in 2019, where four key pillars of institutional objectives were identified: the undertaking of a transdisciplinary approach, strategic collaboration, achievement of institutional sustainability, and proving academic excellence through policy-relevant research.
This institutional commitment to adapting management control systems has so far resulted in the implementation of flexible working arrangements, the development of a floating office concept, a dedication to achieving CO2 neutrality, and the introduction of a rolling budget.
If I were to describe the past year for UNU-FLORES in one word, I would say: transition. 2019 has seen the Institute evolve, and indeed, transition across administrative and strategic levels. Some highlights of which include a transition in research strategy – from a focus on water, soil, and waste to a more encompassing resource nexus, and a transition in staff structuring to support agility and a transdisciplinary approach to research.
UNU-FLORES has also made extensive strides in expanding the Institute's network of partners in 2019 and kicking off a new UNU Water Network in conjunction with other institutes across the UNU network. The Institute has further strengthened its highly valued relationship with German ministerial bodies, such as the Saxon State Ministry for Energy, Climate Protection, the Environment, and Agriculture (SMEKUL), as well as expanding its outreach to include the private sector.
While the six-year employment rule of the United Nations University has seen some of the Institute's longest-serving and highly regarded researchers leave us, this rule also has the benefit of bringing fresh ideas to UNU-FLORES, and I greatly look forward to welcoming the new Heads of Research Programmes to our team in 2020.
2019 has proven to be a rewarding year, thanks in no small part to the diligent and impactful work of our researchers, students, interns, and staff. I have no doubt that 2020 – especially with the Dresden Nexus Conference – will bring a wealth of exciting and meaningful opportunities and accomplishments for UNU-FLORES.
Thank you for your continued support of our institute.
Warm regards,
Prof. Edeltraud Guenther
Director, UNU-FLORES