2013/07/08 Münster, Germany
UNU-FLORES organized a special session on "Societal Concerns and Capacity Development" at the 8th Symposium of European Freshwater Sciences 2013 to provide a forum for tools, approaches and case studies on freshwater-related capacity development. Eight presentations (coming from UNU-FLORES, UNU-EHS, UNW-DPC, TU Dresden, University of Liverpool, TU Darmstadt, the Helmholtz Centre for Environmental Research (UFZ), and the Global Water System Project) were part of this session on July 2nd.
The main theme of the 2013 Symposium was "Freshwater Science for Nature and Society". The Symposium, sponsored by the European Foundation of Freshwater Sciences, took place in Münster/Germany from July 1st-5th and was hosted by the German Society of Limnology in collaboration with the University of Münster (WWU Münster). It aimed at providing a trans-disciplinary platform for delegates from 36 countries to discuss freshwater research. Contributions ranged from fundamental to applied research, with a strong focus on the human impact on freshwater systems.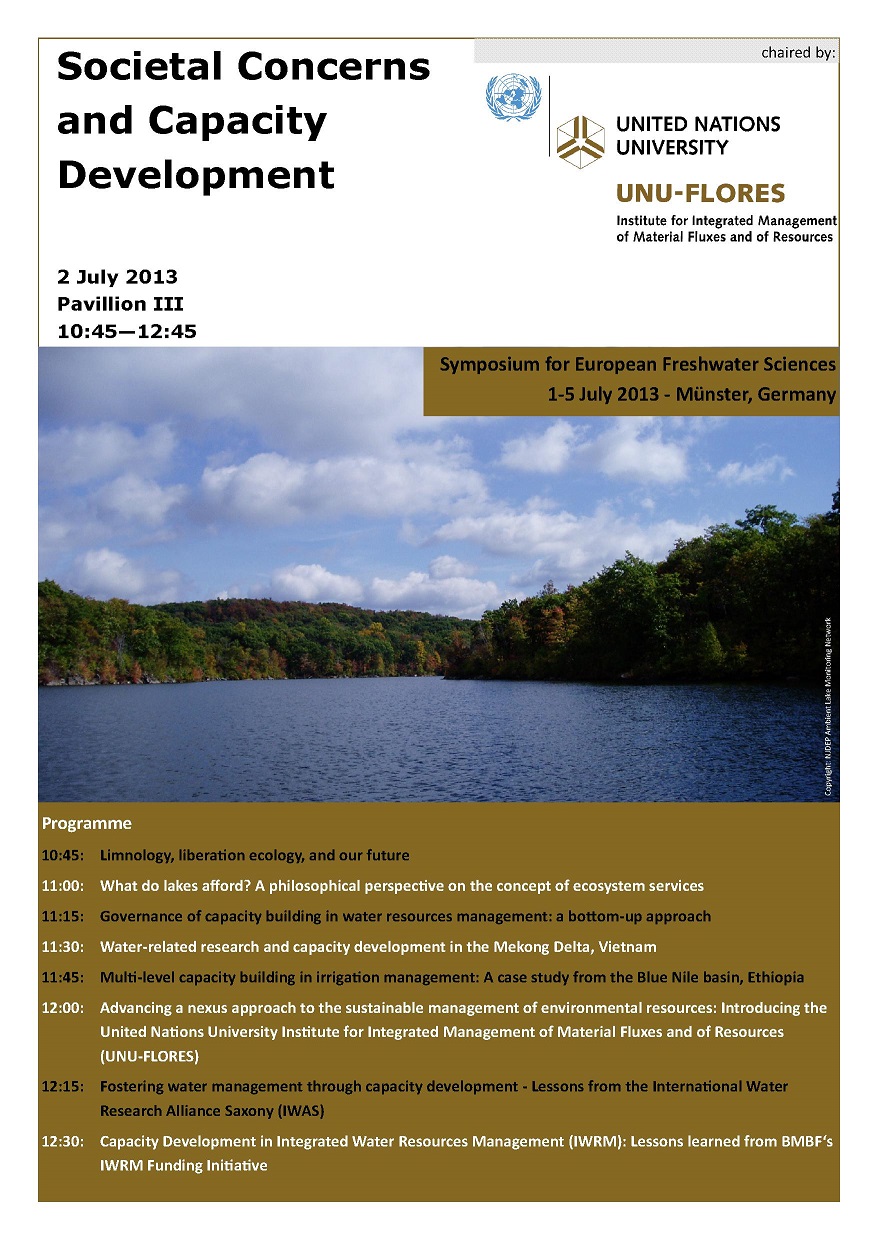 The first part of the session emphasized the responsibility of scientists to educate, help and lead during the required shift from modern societies' unsustainable resource use to a future global sustainable model. The session continued with a philosophical perspective on the concept of ecosystem services and a general conceptualization of the science-policy interface.
The main part of the session, the remaining six presentations, provided insight into various aspects of water-related capacity development as well as case studies. The main points, partly resulting from the lively discussions between the talks and at the end of the session, were:
Capacity development needs to take a multi-level approach, considering the individual as well as the institutional level and the enabling environment;
Specific instruments need to be developed and regionally adapted to address different target groups;
Capacity development on integrated management of environmental resources needs to include socio-economics and place a strong focus on implementation and governance at the individual level;
E-learning can be a good tool for individual capacity development if implemented appropriately;
At the institutional level, successful examples include the establishment of inter-organizational mechanisms to foster communication and coordination across sectors and the involvement of stakeholders from the very beginning;
The effectiveness and success of capacity development needs to be evaluated; and
Capacity development is a long-term process.
A more detailed report on the proceedings of the session organized by UNU-FLORES will be available under Publications by September 2013.